Bette Midler: Still Divine
by Mark Bego
Bette Midler Bathhouse Betty
Album-matching folio from this international superstar. Titles are: Song of Bernadette * I'm Beautiful * Lullaby in Blue * Ukulele Lady * I'm Hip *I Sold My Heart to the Junkman * One Monkey Don't Stop No Show * Boxing * Big Socks * That's How Love Moves * My One True Friend (From the motion picture One True Thing) * Laughing Matters.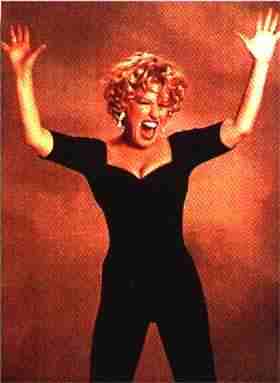 The Bette Midler Scrapbook
by Allison J. Waldman
Outrageous and captivating, Bette Midler combines in one talent a soulful voice, the raucous wit of Mae West, and the comedic skill of Lucille Ball. The Bette Midler Scrapbook presents a comprehensive, informative, and entertaining retrospective of Bette's tumultuous life, complete with photographs and memorabilia from every aspect of her career.
A View from a Broad
by Bette Midler
Midler's best-selling book, a book with her humorous memories of her first world tour.
Bette Midler Greatest Hits: Experience the Divine
14 of the Divine Miss M's best. Boogie Woogie Bugle Boy * Chapel of Love * Do You Want to Dance? * Friends * From a Distance * Hello in There * In My Life * Miss Otis Regrets * One for My Baby (And One More for the Road) * Only in Miami * The Rose * Shiver Me Timbers * When a Man Loves a Woman * Wind Beneath My Wings.