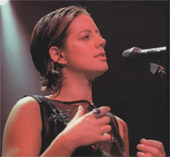 Canadian Sarah McLachlan is strong, charismatic singer. She conjures a rare balance of delicacy and power. Her warmly expressive voice is still at the epicenter of her performances.
Sarah McLachlan - Music
Sarah McLachlan - Books
Lyrics:
Surfacing
Fumbling Towards Ecstasy
Sarah McLachlan - Fumbling Towards Ecstasy Live
(1994) VHS
An intimate look into one of the most amazing singers. This concert video of Sarah McLachlan is beyond words. Sarah and her band confidently perform to a sold-out crowd in Montreal where Sarah is highly respected. Besides the amazing concert, this is an interview with Sarah and her long time friend and producer Pierre Marchand, along with in-studio sessions as well.
Sarah McLachlan: Video Collection 1989-1998 (1998) DVD
The DVD features fifteen music videos spanning all four of Sarah's studio albums (Touch, Solace, Fumbling Towards Ecstasy and Surfacing). The earliest, Vox, dates from 1988 and we see then 20-year old Sarah as fresh-faced and angelic. The directorial tastes of some of the earlier videos are questionably cheesy, with Vox (Canadian version) being one of the most New Wave-stuck in the '80s mode. The picture quality is generally very sharp, with crisp blacks and vibrant colours.
Sarah Mclachlan Video Collection 1989-1994 VHS
This compilation follows Sarah McLachlan from her days as a sentimental, round-faced youth to her success on Fumbling Towards Ecstasy. While the collection certainly displays talent and portends of great things to come, viewing these videos, half of which are alternating takes on Canadian and U.S. versions, is akin to checking out your coolest friend's high-school yearbook. Expecting the brilliance to which you are accustomed, you instead learn that McLachlan herself struggled through some decidedly uncool artistic pretensions prior to connecting her vision to her work.
Sarah McLachlan - Mirrorball (1999) DVD
This video companion to the Canadian singer-songwriter's triumphant live album confirms in sight what that recording advanced in sound--Sarah McLachlan and her fine, flexible stage band have evolved into a superb live performing unit, breathing added fire and nuance into McLachlan songs that were already stunning in their original studio versions.
S. Sutherland
Lilith Fair - A Celebration of Women in Music (1997) DVD
The 80-minute video mixes interview clips and backstage footage with concert performances by such performers as Sarah McLachlan (Lilith Fair's founder), the Indigo Girls, Sheryl Crow, Jewel, Meredith Brooks, and Shawn Colvin. Individually and together, they talk about the industry pressures on women in popular music and the sense of community that developed between the performers, as they shared the collective experience of Lilith Fair.