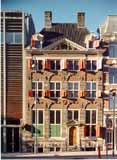 Amsterdam Travel Guide
Visit Holland - Great site from the Netherlands Board of Tourism with everything you need to know about the Netherlands as a travel destination.
Holland.com - The official travel guide of the Netherlands Board of Tourism.
Tourist Board North-Holland - Events, Hotels, Campings, Bungalows, Short Holidays (Amsterdam!), General information, Museums and much more ...
Gastvrij.nl - The word "gastvrij" means hospitality and that is exactly what this site offers you: click on the map to explore thousands of possibilities to make your trip to the Netherlands one to remember!
Panorama Tulip Land
By bike to the Keukenhof
Gouda Pottery Festival
The Dutch Coast
Fun at Holland's Seaside
Art & Culture
Go Holland.com
Keukenhof, the Spring Garden of Europe
Going Dutch: Meet the Locals - by Rick Steves
Holland Tulip Parcs - Twenty-five leading Dutch camp sites have joined together under the name Holland Tulip Parcs.
Holland International Distribution Council
HollandAmerica.com - A five-star fleet of nine ships, award-winning entertainment, exceptional cuisine, and an amazing variety of activities for people of all ages.