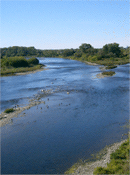 Travel By Rail Canada

If you want to totally relax and start enjoying your vacation time immediately, consider using train as your transportation this year. Train trip will give you extra time away from everything ordinary in your life and at the same time you will have opportunity to enjoy the calm surroundings as well as the great scenery by gazing out of the window in the comfort of your train seat.

Rocky Mountain Rail - Visit the official site of Rocky Mountaineer Vacations - providers of unique Canadian train trips and vacation packages across Canada. This year travel by train through the Canadian Rockies onboard the award winning Rocky Mountaineer train and discover Canada from coast to coast.Tour through magnificient British Columbia and Alberta into the heart of the spectacular Canadian Rockies.

Alberta Prairie Railway Excursions - Alberta Prairie offers an exciting one day adventure on board a real steam or diesel-powered train. Different themes are enacted throughout the season, including murder mysteries, family, dinner theatre, seniors and teddy bear specials.


West Coast Rail Tours - Join hundreds of others who enjoy the romance and prestige of train travel as West Coast Rail Tours treats you to interesting rail based adventures featuring scenic and historic locations. These are a must for railway enthusiasts, photography buffs, geography devotees, and those who just want to explore more of British Columbia from a different perspective.

VIA Rail Canada - VIA Rail Canada is an independent Crown corporation established in 1978. VIA operates trains in all regions of Canada over a network spanning the country from the Atlantic to the Pacific, and from the Great Lakes to Hudson Bay. Discover the Canadian wilderness with Via Rail Packages With The Train - http://www.viarail.ca/adventures/

Ontario Northland - Headquartered in North Bay, Ontario Northland's role as a catalyst for growth and development in the North has continually evolved over its 96-year history, creating a vital transportation and telecommunications company which embraces change as way of doing business.

Algoma Central Railway - After winding through the pristine wilderness of Algoma Country aboard the Agawa Canyon Tour Train, you can spend an extra day or two exploring the numerous attractions, dining and retail opportunities our city has to offer.



Did You Know?


Until 1971, visitors to Agawa Canyon travelled on the regular passenger train. Due to increased visitation, a dedicated Agawa Canyon Tour Train (#3 & #4) was launched in 1972.

Algoma Central Railway - Unofficial Algoma Central Railway Home Page


Canadian National Railways (CN) - CN is a leader in the North American rail industry. Following its acquisition of Illinois Central in 1999, WC in 2001 and GLT in 2004, as well as its partnership agreement with BC Rail in 2004, CN provides shippers with more options and greater reach in the rapidly expanding market for north-south trade.

AMT Montreal

-

The Montréal metropolitan area is at the heart of Québec's economic, social and cultural life. The public transit network that serves the region contributes directly to this vitality by enabling almost 750,000 people to travel effectively, economically and ecologically every day.



B.C. Railway Company - A commercial crown corporation wholly owned by the province of British Columbia BC Rail is Canada's fourth largest railway.

Canadian Pacific Railways (CP)

-

Based in Calgary, Alberta, Canadian Pacific Railway (CPR) is a Class 1 North American railway providing freight transportation services over a 14,000-mile network in Canada and the U.S.

Canadian Passenger Railway Travel - Guide, review, links, money saving tips for Canadian Passenger Railway Travel, steam museums and related sites.

Canadian Urban Transit Association