Grilled Glazed Lamb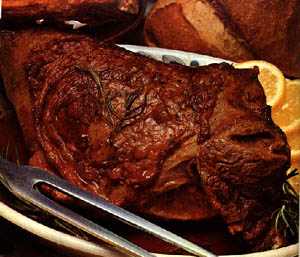 Ingredients:

1 butterflied leg of lamb (about 3 lb/1.5 kg)
1/2 teaspoon salt
1/2 teaspoon ground black pepper
3 tablespoons red pepper jelly
1/2 teaspoon grated lemon zest
1 teaspoon fresh parsley leaves (chopped)
1 teaspoon chopped fresh rosemary (or 1/2 teaspoon dry rosemary)
3 cloves garlic (minced or pressed)
2 tablespoons vegetable oil
2 tablespoons white wine
1 teaspoon each coarsely ground pepper and salt for sprinkling.

Preparation:
Trim excess fat from lamb, sprinkle with salt and pepper and set aside.
Heat barbecue to medium heat.
In small saucepan over medium heat melt jelly. Stir in salt, pepper, lemon zest, parsley, rosemary, oil and wine and cook about 1 to 2 minutes. Brush lamb with glaze.
Place meat on well greased grill and cook 15 minutes, turn and brush with a glaze. Repeat process after every 15 minutes 2 more times.
After 45 minutes check with meat thermometer. For just instant lamb thermometer inserted into thickest part of lamb registers 150 F (65 C). For regular doneness (about 10 to 15 more minutes), thermometer registers 180 F (82 C).
Remove lamb to cutting board, loosely cover with foil and let stand for 10 to 20 minutes before slicing thinly.
Makes 6 servings.