Start Cooking With Us
Welcome to Romwell Real Cooking. Take a moment now to familiarize yourself with all the helpful features you'll find on our pages. Look at the variety of recipes, bookmark this page for future reference and enjoy. We think you will find our cookbook fun to browse through and easy to use.

We know how special The Holiday Season is for you and your family. On these pages you will find helpful hints and great recipes for the holidays, carefully assembled to help you make this festive season very special... more...
Contrary to what you might think, eating right doesn't mean you have to sacrifice great taste and visual appeal. To eat great variety of foods is especially important for vegetarians. The value of fibre in our diet has been widely recognized in last couple years as great aid to digestion and as prevention against many diseases. Vegetarians usually obtain a greater amount of fiber in their diet than meat eaters, because they eat more vegetables, grains, legumes and fruits. However, they also have to be very careful not to increase... more...

There's no better way to welcome your guests than a hot fondue, so rich and delicious without a lot of preparation involved. Fondue is a wonderful way to savour chocolate. Let your imagination rule when it comes to... more...

Since dishwashing, handling utensils, multi-service articles and equipment, food storage and handling is one of the constant duties in the kitchen, proper washing, handling, sanitation and efficiency methods should be always applied to it. Improperly handled food and equipment, poorly washed dishes and multi-service articles have potential to spread pathogenic bacteria and open the door for dangerous foodborne diseases... more...
Piquant sauces are excellent accents for meat, fish, vegetables even for sandwiches. They will bring wonderful changes to your familiar dishes or they will just accompany new. We hope you will develop your own ideas how to use them... more...

Today's sandwich heartily recommends itself to the demands of the times. It is hailed by nutritionists as the well-balanced meal: light on fats, heavy on complex carbohydrates, replete with the very nutrients we normally have trouble including in our diets, such as fiber and calcium, and less... more...
Grill or barbecue will give you an easier way to prepare memorable supper all year around, not just during the summer months. Keep in mind that tender vegetables like mushrooms, leeks, eggplants, green or red peppers only need 10-15 min. on the grill... more...
Spices are dried seeds, fruits, roots, bark or other vegetative substance used in nutritionally insignificant quantities as a food additive for the purpose of flavoring, and indirectly for the purpose of killing and preventing growth of pathogenic bacteria... more...
Good old saying that the way to a man's heart is through his stomach has taken a new meaning lately. We used to think the best method for enticing a lover was to ply him with rich, buttery sauces, heavy meat dishes and decadent chocolate desserts. These days we're more likely to protect the heart of the one we love by serving lighter and healthier foods that won't clog the coronary arteries or raise cholesterol levels. While it's true that love is ultimately less about what you eat than whom you eat, a little help from our creative and healthy vegetables cookbook doesn't hurt... more...
Tips & Ideas For Healthy Eating
To reduce saturated fat, control the size of your portions, trim the fat off meat and remove the skin from poultry before cooking. Make a meat marinade from non-fat or low-fat salad dressings, wine, flavored vinegars and citrus fruits, such as limes, lemons and... more...
THE ONION STORY

No other group of ingredients is more versatile and basic to cooking than the famous member of the allium family - onion. Cultivated around the world for over 5,000 years onion is thought to be of central Asian origin. Allium family encompasses more than 500 members and most of them are edible, but not all... more...
About Fruits
Although we usually think of citrus fruits as the main source of vitamin C, black currants contain much more of this vital nutrient. Just one cup has nearly 203 mg. of vitamin C, or about 338 % of the RDA (Recommended Daily Allowance), compared with about 69 mg. for a 4-1/2 oz. orange. The oil from... more...
Soups, Stews & Chili

Soups are excellent healthy tonic and they have wonderful taste. In Europe soups are usually served as appetizers. Prepare your own soups with a minimum of trouble and enjoy good-quality food. Some soups in combinations with meat and vegetables can... more...
The History of Coffee
Since its discovery in an Ethiopian rain forest centuries ago, coffee has brewed up a rich and troubled history, according to Uncommon Grounds, a sweeping book by business writer Pendergrast. Over the years, the beverage has fomented revolution... more...
Salads usually take their name from their chief ingredient, as, for instance, potato salad, chicken salad, tomato salad, etc. Just what place salads have in the meal depends on the salad... more...

Beautiful Wine of Your Choice
Wine making is a hot hobby right now, as people are realizing the outstanding quality of wine you can make at home at a fraction of the cost of buying it commercially. If you are willing to invest a litle time in your winemaking, your patience will be rewarded with beautiful wine of your choice... more...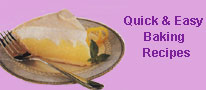 Breads, Muffins, Scones...
The Great Cookie Treasure
Pies & Pastries
Cakes, Tortes, Tarts & Related
Tasty Desserts
Holiday Dishes
Tips & Guides
Buy Baking Supplies
Bakeware

A careful selection of the food that is to be preserved is the most important part of the whole process. The flavor of the finished product also depends a great deal on the condition of the food. So, whenever possible, any food that is to be preserved should be perfectly fresh. The sooner it is preserved after it has been gathered, the more satisfactory will be results. Keep in mind that a successful preserving depends entirely on destroying harmful micro-organisms that are present in the food and preventing those present in the air from entering the food.... more...

Drying is an convenient way to preserve foods and it is one of the oldest methods of food preservation for later use. It is simple, easy to learn, safe, and requires only basic equipment. It is not difficult, but it does take time and a lot of attention. With the renewed interest in gardening and natural foods, drying foods at home is becoming popular again. Many kinds of fresh fruits, vegetables, herbs, meat, and fish can be dried... more...
If you grow and dry your own herbs, you will always have a fresh, inexpensive supply close at hand for making delicious foods. For people on salt-free diets, herbs enhance the flavor of otherwise bland foods and do not add calories to foods. If you want to cut down on salt or calories, you can use herbs and spices to give zest to familiar, low-calorie or low-salt foods. For example, a pinch of rosemary dropped into the water that potatoes or rice are boiled in will give a delightful taste to these vegetables... more...
Watch humidity and ventilation during the drying process very carefully. Humid air slows down evaporation. Food contains a lot of moisture and rapid dehydration is desirable. The higher the temperature and the lower the humidity, the more rapid the rate of dehydration will be... more...
Curing and smoking is an excellent way to preserve animal products such as meat, poultry and fish. Smoking and curing affects the texture, color, juiciness and flavor of meat. The quality and safety of the final product depends on how the product is handled before, during and after curing and smoking... more...