Chemanius - Canada's Largest Permanent
Outdoor Art Gallery
Chemainus, Vancouver Island, BC is world famous for its murals which decorate many of the buildings making the town itself a model for many other Canadian, and generally North American communities. Over thirty historic paintings in very impressive outdoor art gallery brings hundreds of thousands of visitors each year. From just few murals in the summer of 1982, and lots of dedication, this beautiful little place and its successful downtown revitalization project literally put Chemainus on the world travel map. All murals are copyrighted and owned by The Municipality of North Cowichan. They are located within few blocks of each other and are facilitated by footsteps which lead to every mural, plus walking tour map is available at the local Visitor Info Centre. You could also take "heritage tour" to see the murals on the board of a Chemainus Tours trolley.
Click on the image for more info about murals and online tour.
<!gb>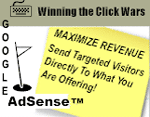 If you are frustrated by slow, costly, ineffective advertising methods that used to work, welcome to what works now!
Attract new clients with special promotions and features on the Net!