Substituting Eggs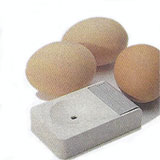 SUBSTITUTING EGG WHITES FOR WHOLE EGGS
In most egg-based recipes, you can substitute 1 or 2 egg whites for a whole egg.



If a recipe calls for 2 eggs, you can replace the 2 whole eggs by 1 whole egg and 2 egg whites, for example in meat loaf, hamburgers, pancakes, quick breads, muffins or salad dressing.

Where a recipe calls for 2 egg yolks, use 1 whole egg instead, if you wish. For scrambled eggs, you can use 1 whole egg and any number of whites.



EGG SUBSTITUTE RECIPE
This natural egg substitute can be used to replace 2 or 3 eggs in most recipes.


3 egg whites
1/4 cup skim milk
1 tbsp. skim milk powder
1 tsp. vegetable oil
A pinch turmeric
Beat egg whites lightly with a fork. Stir in milk, milk powder, oil and turmeric, beating until well blended.

Makes about 6 tbsp./90 mL.

For cheese and chocolate fondue use shallow, heavy bottomed cast-iron or porcelain fondue pot. Do not use a porcelain fondue pot for meat because they will not withstand the high temperature required for oil.

Never use fondue forks for dipping, because that may transfer sauce to the cooking oil, creating sediment in the oil, and reduce frying temperature.

Use fondue forks with different shaped handles or colors so guests can determine whose forks are whose.

Never try to eat directly from the fondue fork because they can get extremely hot. Dinner forks should be available.

Proper fondue plates should have separate compartments for sauces, vegetables, and meat. Uncooked meat and vegetables should be always served separately. To serve sauces you can also use small bowls.

Never fill more than 1/3 of the fondue pot with melted cheese, oil or chocolate because it may bubble up when raw food is added.

Click here for more tips