Celine Dion - Books

Since the 1990 release of Unison, her gold, breakthrough U.S. album, Celine Dion has been in perpetual motion, racking up worldwide sales of hundreds of milions.

When an artist can cross as many musical barriers as Celine Dion, anything is possible. Find and read your favorite story about Celine Dion!





| | |
| --- | --- |
| | |
| Never before have two top artists created such a multimedia work to honor the unique and steadfast bond between mother and child. Vocalist Celine Dion and photographer Anne Geddes conceived Miracle as a way to express something deep within their own hearts, and now both the experience and the outcome will delight music and visual art fans throughout the world. Miracle features more than 100 stunning new Geddes images. Each frame reflects the beauty, grace, and magic of both the photographer and her subject. Babies enfolded in blooms, mothers embracing the life flowering within: Anne's artistic eye captures it all. The exquisite images are wedded with the lyrics to all-new songs by Dion, created and performed on the book-accompanying CD in Celine's unmistakable international superstar style. | Céline Dion has long been one of the world's most admired performers. Her unique blend of brilliant talent and an unstinting willingness to share her life has defined her career in the public eye. With new interviews and special memorabilia, Céline Dion: For Keeps will invite her fans to get to know the professional and personal parts of her life as never before. A very special collection: a combination of memoir, personal scrapbook, and looking glass into one of the world's most admired lives. Drawing heavily from Céline's personal archives and those of her husband and longtime manager, René Angelil, this book focuses on the key elements of her life, including her family, career, inspirations, courtship and marriage to René, show business hiatus, son René-Charles, and plans for the future-everything that makes her who she is. |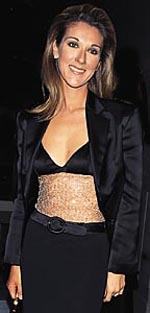 Browse:
Celine Dion
Celine Dion - Music
Celine Dion - Biography
Celine DVD & Video
Pictures Gallery 1
Pictures Gallery 2
Pictures Gallery 3
Celine - Lyrics

Great Books:
Now, in her own words, the most dynamic vocal talent of our time-the international singing sensation whose recordings have sold millions, and whose performances electrify the world's great arenas-gives us her poignant, intimate, and inspiring life story . . . from the heart.
This book goes into detail the rise of Celine Dion from a young and innocent Canadian girl, to the one of the most popular singers in the world. It gives you insight into Celine's busy life. She deserves all that she has been given due to her hard work, and the author makes sure we know just how much effort she puts into her music.