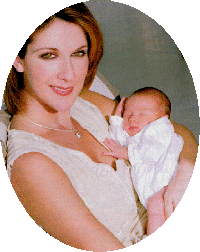 One Heart - Celine Dion
Celine keeps on delivering power ballads and inspirational pop without ever losing her footing. What sets Celine's new a lbum "One Heart" apart from her previous chart toppers is an unrelenting theme of joy and believing in one's self.
These Are Special Times
Celine Dion
These Are Special Times will turn up under many a Christmas tree this year (the perfect gift for the person who has everything?). The prolific princess of pop has thrown together a mixture of contemporary and traditional holiday favorites, bordering on too-cute and kitschy only on the intro to "Feliz Navidad." For many, Dion is an acquired taste, but even naysayers may enjoy her rare moments of restraint on a smoky version of "Blue Christmas." "The Prayer," a duet with Andrea Bocelli, is set to become this season's "Time to Say Goodbye," but it will have to battle it out with the R. Kelly duet, "I'm Your Angel," first. --Rebecca Wallwork
Celine Dion - Biography
Celine Dion Concert Tickets
Celine Dion - Music
Celine Dion - Books
Celine DVD & Video
Pictures Gallery 1
Pictures Gallery 2
Pictures Gallery 3
Celine - Lyrics
Over the years, Celine's voice has changed. Like other great artists, she has improved with age. With more than 20 albums under her belt, she has the power to realise her dream.
I Drove All Night [CD-SINGLE] [IMPORT] - Celine Dion
The title track from the Celine's 2003 album, 'One Heart'.
The Collector's Series, Vol. 1 Celine Dion
Despite her conspicuous absence from most media (save the tabloids) in the year 2000, the Celine Dion industry rolls on with her second repackaging job in two years. The Collector's Series Volume One culls a dozen cuts from previous U.S. releases, including "That's the Way It Is" from Dion's 1999 greatest hits CD. Two Spanish-language numbers, a previously Japan-only multilingual version of David Foster's "Be the Man (on This Night)," and a song from the 1996 Olympics opening ceremony fill out the disc. Guest appearances by Streisand ("Tell Him") and Bocelli ("The Prayer") remind us and her that, time off or no, she's still a star. Bingo--the perfect holiday gift for the Celine fan on your list. --Park Slope
New Day Has Come (Bonus CD & Dvd) [LIMITED EDITION]
A New Day Has Come
Doubters who expect little from Dion but turgid ballads will be surprised by her return to recording after several years. On A New Day Has Come, the big production numbers most associated with the Canadian superstar's name ("My Heart Will Go On," "Because You Loved Me") are evoked by the two versions of "I Surrender" and somewhat lifeless covers of "At Last" and "Nature Boy." At the same time, though, Dion shows her willingness to stretch on the classic-house homage "Sorry for Love" and the unavoidably catchy "Right in Front of You" and "Ten Days." The album's unexpected, often low-key production allows Dion to emote in a straightforward way that gracefully skirts the chest thumping of past days, and the relative subtlety works in her favor. Still, New Day will hardly prove a shocker for her many fans. Crowning the conservative Dion a forward-thinking diva seems a bit premature, but this agreeable record opens the door to such a possibility. --Rickey Wright
I'm Alive [CD-SINGLE]
[IMPORT] Celine Dion
The Second Single from the Album "a New Day Has Come" features Two Remixes of the Title Track, Including One by Famed Engineer Humberto Gatica (Who Has Helmed Many a Project for Quincy Jones, Michael Jackson, Chicago and More).