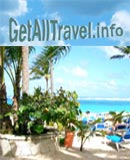 Caribbean

When describing Caribbean, only one word comes to mind
- PARADISE
.

Caribbean islands are ideal choice for travelers who like volcanic mountains, famous landmarks, spectacular sunsets, friendly atmosphere, beautiful sand beaches, ideal climate and interesting history.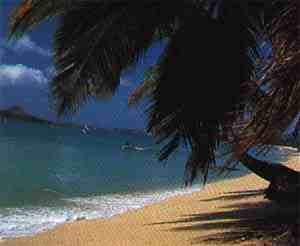 The entire area of the Caribbean Sea, especially the numerous islands in the sea, is known as just the Caribbean.
The
Caribbean Sea
is a body of water adjacent to the Atlantic Ocean, south of the Gulf of Mexico. It is bounded on the south by Venezuela, Colombia, and Panama, to the west by Costa Rica, Nicaragua, Honduras, Guatemala, Belize, and the Yucatan peninsula of Mexico, to the north by the Greater Antilles, Cuba, Hispaniola, Jamaica, and Puerto Rico, and to the east by the Lesser Antilles.
The Caribbean Sea covers about 2,754,000 km² (1,063,000 square miles). The sea's deepest point is the Cayman Trench, between Cuba and Jamaica, 7500 m (25,000 feet) below sea level.
RECOMMENDED BOOKS:
Caribbean Islands

- With coconut palms and white-sand beaches, vibrant cities and tranquil coves, the Caribbean's rich mix of islands offers endless possibilities for the ultimate tropical escape. Whether you want to dive among shipwrecks, stretch out on dry land or cast away with a glass of rum, this comprehensive and practical guide is the key to unlocking your Caribbean dream.

Fodor's Caribbean 2008

- Comprehensive, up-to-date, and easy to use, Fodor's Caribbean 2008 remains the best resource for organizing your trip to these rich and varied islands.
Learn More About Caribbean Islands: