Trifle in a Wine Glasses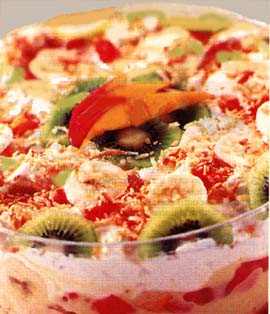 Ingredients:
1 pkg. pound cake (300 g), thawed if frozen
1/2 cup raspberry or strawberry jam
6 tablespoons fresh orange juice
1 cup sliced banana
1 cup sliced kiwi
1 cup canned peaches, chopped
1 cup sliced strawberries
2 cups (500 mL) homemade or prepared custard
1-1/2 cups (375 mL) whipping cream
2 tablespoons granulated sugar
1/2 teaspoon vanilla

Garnish with fruit slices.
Makes 10 servings.

Preparation:

Thinly slice pound cake (20 slices). Spread jam over one side of half of the slices of pound cake. Line each wine glass with these slices, jam side in. Sprinkle with half the orange juice.
In a large bowl mix fruit with custard. Put mixture into each wine glass.

Spread remaining cake with jam and place on top of fruit custard mixture, jam side in. Sprinkle with remaining juice.
Whip cream until starts to thicken. Add sugar and vanilla. Continue to beat until peaks form when beaters are lifted. Spoon onto each mixture in a glass, spreading to cover.
Garnish with additional fruit and refrigerate. Serve trifle after it sits for about an hour.
VARIATIONS:

Tropical Trifle

To prepare tropical trifle use: diced mangoes, sliced banana, diced papaya, diced oranges and garnish with toasted coconut.
Sprinkle pound cake with rum instead of orange juice.
You can prepare trifle in a trifle dish or any other glass bowl.
Sliced angel food cake or lady fingers could be substituted for pound cake.
Orange Trifle
To prepare orange trifle use only diced seedless oranges, orange liqueur and orange marmalade.

Garnish with sliced oranges.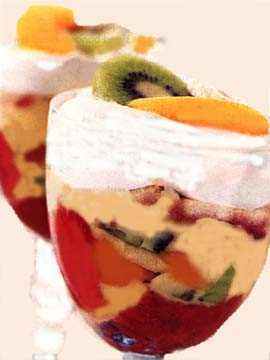 Did You Know?
A trifle is a dessert dish made from thick (or often solidified) custard, fruit, sponge cake, fruit juice or, more recently, gelatin, and whipped cream. These ingredients are usually arranged in layers with fruit and sponge on the bottom, and custard and cream on top.

The earliest known use of the name trifle was for a thick cream flavoured with sugar, ginger and rosewater, the recipe for which was published in 1596 in a book called "The good huswife's Jewell". It wasn't until sixty years later when milk was added and the custard was poured over alcohol soaked bread.

Some trifles contain a small amount of alcohol such as port, or, most commonly, sweet sherry or madeira wine. Non-alcoholic versions may use sweet juices instead, as the liquid is necessary to moisten the cake layers.

One popular trifle variant has the sponge soaked in jelly (liquid gelatin dessert) when the trifle is made, which sets when refrigerated. The egg and jelly bind together and produce a pleasant texture if made in the correct proportions.

A trifle is often used for decoration as well as taste, incorporating the bright, layered colours of the fruit, jelly, egg, and the contrast of the creamy yellow cream.

Trifles are often served at Christmas time, sometimes as a lighter alternative to the much denser Christmas pudding.

A recent variation is the chocolate trifle, usually made with chocolate cake, chocolate pudding, whipped cream, and skor bars.