Triple Berry Trifle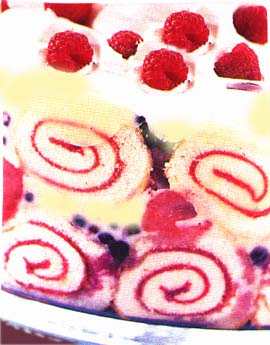 Ingredients:
1 pkg (350 g Rasberry or Blueberry Swiss Rolls
6 tablespoons fresh orange juice
1 pkg (300 g) frozen whole unsweetened strawberries, thawed and cut in half
1 pkg (300 g) frozen unsweetened bluberries or raspberries
2 cups (500 mL) homemade or prepared custard
1-1/2 cups (375 mL) whipping cream
2 tablespoons granulated sugar
1/2 teaspoon vanilla

Garnish with sliced strawberries, whole raspberries and blueberries
Makes 10 servings.

Preparation:

Line trifle dish with more than half thinly sliced Swiss Rolls and sprinkle with half the juice.
In a large bowl mix fruit with custard. Turn into trifle dish. Place remaining Swiss Rolls on fruit custard mixture. Sprinkle with remaining juice.
Whip cream until starts to thicken. Add sugar and vanila. Continue to beat until peaks form when beaters are lifted. Spoon onto the custard/fruit mixture, spreading to cover.
Garnish with fruit. Serve after it sits for about an hour.
Did You Know?
Fruit should be eaten on an empty stomach or before your meals.

If you eat fruit on an empty stomach, it will play a major role to detoxify your system, supplying you with a great deal of energy for weight loss and other life activities.

If you learn the correct way of eating fruit, you will discover the natural secrets of beauty, longevity, health, energy, happiness and normal weight.

When you need to drink fruit juice - drink only fresh fruit juice, NOT from the cans. Don't even drink juice that has been heated up. Don't eat cooked fruit because you don't get the proper nutrients at all. You only get the taste. Cooking destroys the vitamins and delicate enzymes.

Eating a whole fruit is healthier than drinking the juice. If you want to drink the juice, drink it mouthful by mouthful slowly, because you must let it mix with your saliva before swallowing it.

You can go on a 3-day fruit fast to cleanse your body. Just eat fruit and drink fruit juice throughout the 3 days and you will be surprised when your friends tell you how radiant you look!