Winer Parfait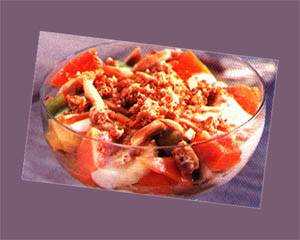 Ingredients:
1 cup (250 ml) plain yogurt
1 to 2 tbsp (15 to 25 ml) liquid honey
1/2 tsp. (2 ml) ground cardamom
1/2 cup (125 ml) coarsely crushed amaretti or ginger cookies (about 8 Cookies)
2 tbsp (25 ml) toasted silvered almonds
2 seedless oranges, thinly sliced
2 kiwis, cut into chunks
1 papaya or mango, seeded and cut into chunks
1 banana, sliced

Preparation:

Stir together yogurt, honey and cardamom until combined.
In another small bowl, stir crushed cookies with almonds.
In medium bowl, toss together fruit.
Use wine or parfait glasses and layer fruit with yogurt mixture then amaretti mixture.
Repeat layering, ending with amaretti mixture.
Note: This tasty dessert has high amount of dietary fibre. It is also excellent source of vitamin C, very good source of vitamin A and vitamin B6, folacin, vitamin B12 and calcium.

Did You Know?
An American parfait is a dessert normally made by layering cream, ice cream, or flavored gelatin dessert with other ingredients such as granola, nuts, yogurt, syrups, liqueurs, fresh fruit, or whipped topping. A parfait is normally made in a tall clear glass making all layers visible. The term parfait traditionally refers to an ice-cream treat similar to a sundae.

Currently, the term 'yogurt parfait' is being popularized by specialty retailers in America, being a layered concoction of fruit, yogurt and granola or other cereal. It is eaten for breakfast or as a snack.