Quick & Tasty Egg Skillet Meal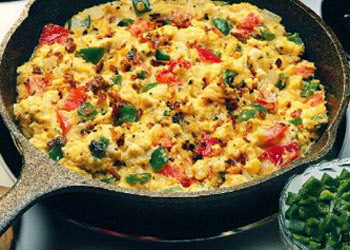 Ingredients:
1/2 cup chopped scallion
1/2 cup chopped sweet green pepper
1 clove garlic, minced
10 eggs
1/3 cup skim milk
1 teaspoon celery salt
1/2 teaspoon Vegeta seasoning
1/4 teaspoon pepper
3 oz. Neufchatel cheese, cubed
1 medium tomato, chopped
1/3 cup cooked, crumbled bacon
1 tablespoon butter

Makes 4 to 5 servings

Preparation:

In a 12-inch non-stick or iron skillet melt the butter.


Add chopped scallion, chopped green pepper and garlic. Cook over medium heat until tender.


In medium bowl, beat together eggs, milk, and seasonings; pour over vegetables. Sprinkle with cheese, tomato, and bacon. Gently push pancake turner completely across bottom and sides of skillet, forming large soft curds and cook until eggs are thickened throughout and no visible liquid egg remains.


Serve immediately with your favourite salad.

NOTE: If you don't have Vegeta seasoning, you can use Italian seasoning or any other seasoning you prefer.

If you don't have Neufchatel cheese you can use Farmer's cheese instead.

TIP: Prepare salad and set the table before you start cooking this meal, because it has to be served immediately.
Recommended Cookbooks
Learn to Eat Healthy is not a traditional diet book with strict rules and limitations. Here you will find great tips and ideas for healthy cooking and good guidelines to control your health, your eating habits and your weight without strict dieting rules. You'll discover that preparing your own food is fun and easy and your healthy diet is delicious. In fact, the main reason why most of those quick fix diets will fail you from the start is because they ignore the way normal people want to live. This book is simply an easy to read and follow guidebook with over hundred, easy to prepare, healthy, and tasty recipes with full nutritional information, and step by step instructions.
More...