Eggs With Asparagus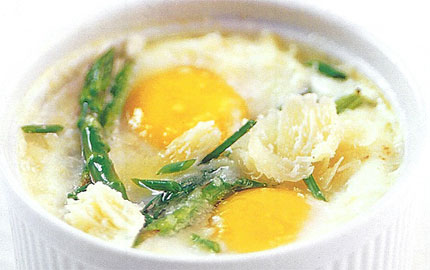 Great and easy dish to prepare for brunch or Sunday breakfast with your family.
Ingredients:
36 asparagus spears, trimmed
10 slices whole wheat or whole grain bread
2/3 cup Parmesan cheese, grated
10 large eggs
1/3 light cream or milk
1/3 cup chives, chopped
Salt and ground black pepper to taste
Shaved Parmesan cheese for garnish
Preparation:
In a large skillet bring water to boil. Add salt and trimmed asparagus. Cook until tender crisp (for about 2 minutes).

Drain asparagus and rinse with cold water. Pat dry and cut into 1 inch long pieces.
Spray 10 ramekins (size 3/4 cup or 175 mL) with olive oil or non-stick spray.
Preheat oven to 350ºF (180º C).

Toast bread, then cut to fit base of each ramekin and place on the bottom.
Divide prepared asparagus between ramekins and season with salt and pepper.
Sprinkle with grated Parmesan cheese (about 1 tablespoon each).
Gently break an large egg on top of Parmesan cheese in each ramekin.
Drizzle light cream or milk over eggs and bake until whites are set and yolks are still runny, for about 13 to 15 minutes, depends on your oven.
Sprinkle with chopped chives and shaved Parmesan cheese over top.
Let stand 2 to 3 minutes before serving.

Makes 10 servings.

Did You Know?
It's not that difficult to get at least 5 servings of fruit or vegetables a day, when you know what a serving size really is.

Add '/2 cup of diced peaches or berries to your morning cereal.

Bring a piece of fruit or some raw vegetables to work or school every day.

Prepare a green salad with low fat dressing for lunch.

Skip the can of soda pop, have orange, apple, mango or tomato juice instead.

Fill your sandwiches with tomatoes, cucumbers, lettuce, and fresh or roasted red peppers.

If you are eating out, order an entree with lots of vegetables, like pasta primavera, a stir-fry or vegetarian pizza.

Serve cooked peas or carrots at suppertime.

Mix 1/2 cup of blueberries or sliced strawberries with low fat vanilla yogurt for dessert.

Prepare fruit salad as dessert for your family.