Filipino Stir-Fried Noodles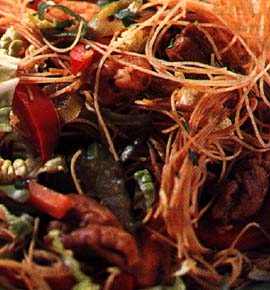 Ingredients:

1/2 lb pkg. (250 g) dried Chinese vermicelli noodles
2 tablespoons vegetable oil
1 garlic clove, chopped
1 small onion, chopped
6 boned and skinless chicken thighs, cut into small pieces
2 tablespoons soy sauce
2 cups chicken stock or vegetable broth
1/4 tsp. salt
Ground black pepper to taste
1 cup (250 ml) uncooked small, peeled shrimp
2 medium carrots, cut into 1- inch (2.5 cm) strips
1 small fresh red pepper, cored and cut into strips
2 celery stalks, cut into thinly strips
2 green onions, thinly sliced
1/2 small savoy cabbage, cored and julienned
2 tablespoons coarsely chopped fresh coriander
1 tablespoon fresh parsley, chopped


Preparation:
Place noodles in a large bowl and cover with hot water and let stand about 5 minutes. Drain well and cat into long pieces. Set aside.
In a wok, heat the oil, add chopped garlic and cook until golden.
Add chopped onion and cook for about 1 minute.
Add chicken and cook over medium heat for about 4 minutes.
Stir in salt, soy sauce and broth. Cover and simmer for 5 minutes.
Add carrots and ground black pepper and cook for 2 minutes.
Add red pepper and celery. Cook until vegetables are slightly tender and water is nearly evaporated.
Stir in cabbage, green onion and noodles. Cook for 2 minutes.
Stir in parsley and coriander. Using 2 wooden spoons, toss well until just combined. Serve immediately.

Makes 6 to 8 servings.
Recommended Cookbooks
Learn to Eat Healthy is not a traditional diet book with strict rules and limitations. Here you will find great tips and ideas for healthy cooking and good guidelines to control your health, your eating habits and your weight without strict dieting rules. You'll discover that preparing your own food is fun and easy and your healthy diet is delicious. In fact, the main reason why most of those quick fix diets will fail you from the start is because they ignore the way normal people want to live. This book is simply an easy to read and follow guidebook with over hundred, easy to prepare, healthy, and tasty recipes with full nutritional information, and step by step instructions.
More...