Pasta With Asparagus (Pasta Spara)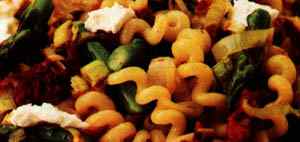 Ingredients:



2 tablespoon extra-virgin olive oil
1 cup thinly sliced leeks
2 cloves garlic, minced
1 tablespoon chopped fresh thyme
1/2 cup white wine
1/2 cup oil-packed sun-dried tomatoes, drained and coarsely chopped
12 oz.(360 g) dried corkscrew or any other pasta you like
1/2 lb. fresh asparagus, trimmed and cut into 1-inch pieces
Salt and freshly ground pepper to taste
4 oz.(120 g) soft goat cheese

Makes 4 servings.


Preparation:

Bring large pot of salted water to a boil.
Meanwhile, in large skillet, heat oil over medium-low heat. Add sliced leeks and cook, stirring often, until softened, about 3 minutes.
Add garlic, thyme, wine and sun-dried tomatoes and cook 1 minute, then remove from heat and set aside.
When water boils, add pasta, stirring to prevent sticking. Cook according to package directions.
About 2 minutes before pasta is done, add asparagus and cook just until tender.
Drain pasta and asparagus and transfer to shallow serving bowl. Reheat sauce and add to pasta, tossing to coat. Season with salt and pepper and dot with goat cheese; stir slightly.
Serve right away.
Did You Know?
Pasta's origin continues to evoke speculation. While many different cultures ate some sort of noodle-like food, composed mostly of grain, the key characteristics of pasta are durum wheat semolina, with a high gluten content. Furthermore, it is made with a technique that allows the resultant dough to be highly malleable, thus resulting in the many different shapes (i.e., ziti, spaghetti, ravioli) that characterize "pasta."

In North Africa, a food similar to pasta, known as couscous, has been eaten for centuries. However, it lacks the distinguishing malleable nature of what is now referred to as pasta, couscous being more akin to droplets of dough. In China, noodles of millet or rice have been eaten for centuries, but lack the durum wheat semolina paste that denotes pasta.

Historians have noted several lexical milestones relevant to pasta, none which change these basic characteristics. For example, the works of the 2nd century AD Greek physician Galen mention itrion, homogeneous compounds made up of flour and water. The Jerusalem Talmud records that itrium, a kind of boiled dough, was common in Palestine from the 3rd to 5th centuries AD.