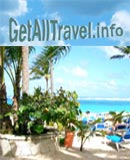 Banff SuperGuide: History, Attractions, and Activities
by Sebastian Hutchings
Banff is one of Canada's most famous towns: an urban jewel in a magnificent mountain wilderness setting. However, Banff is also home to many secrets and stories. More than just a guide to the many trails, sights and attractions in the town, this book is also a fascinating look at the incredible, multi-layered history of Banff - including its legends, its myths and some of its most interesting characters.


Canadian Amusement & Theme Parks
The best part about going to a theme or amusement park in Canada is the fun for the whole family. It s very nice when children as well as adults get to play and have fun when they go to these kinds of parks.
Many of Canadian amusement and theme parks offer variety of tours, rides, games and food, so you don't have to worry about anything, just go for the fun and enjoy your day.
Sportsworld-Ontario, Canada
- Enjoy 30 acres of major attraction action! Outdoor and indoor rock climbing, amusement rides, picnic area, go-kart tracks, waterpark, mini golf, indoor golf driving range and much more.
Six Flags La Ronde is the largest amusement park in Quebec and it is the most complete family attraction in the province. The park is located on Île Sainte-Hélène in Montreal, Canada, and hosts Le Mondial SAQ, the most important international fireworks competition held every year during the summer. La Ronde was opened in 1967 as a part of Expo 67 and now features 36 rides including 7 roller coasters among which is Le Monstre, a 40-metre high wooden double-coaster, and many different shows. The park opens from mid-May to late October, with an activity peak in July.
Santa's Village, Quebec - Give your children the chance to experience the magic of meeting with Santa all year...

This is also your opportunity to leave the city and find a quiet, safe and pleasant site where reality and fiction would come to life.
Calaway Park, Calgary, Alberta - Offers a vast array of incredible rides, live stage shows,special entertainment. There are many attractions for fun seekers, families, and small children. Come spend a day at Calaway Park in Calgary, Alberta.
Paramount's Canada's Wonderland - Canada's premier theme park and features over 200 attractions, more than 60 thrilling rides, North America's greatest variety of roller coasters, and Splash Works, a 20-acre water park located just minutes north of Toronto off Highway 400, just 10 minutes north of Highway 401. Exit Rutherford Rd. if heading north or south on Highway 400. By Public Transit the Wonderland Express "GO" Buses run regularly from Yorkdale and York Mills subway stations. Schedule operates throughout the day and evening through closing.
Ontario Place - Toronto, Ontario, Canada - Ontario Place is an internationally acclaimed cultural, leisure and entertainment parkland located in Toronto, Ontario, Canada. The complex extends throughout three man-made islands along the Lake Ontario waterfront. For Holiday Dreams...imagine a magical wonderland of 500,000 twinkling lights, nightly fireworks, rides, movies in the Cinesphere, skating rinks, visit with Santa, Barney™, Bob the Builder™, and more at the Treehouse Live Stage, hay rides a petting zoo...and so much more!

Galaxyland Amusement Park - In West Edmonton Mall, Alberta - Thrills and spills await you at the world's largest indoor amusement park. Dare to ride the Mindbender, where gravity forces you into your seat as you scream through the world's largest indoor triple loop rollercoaster. The Mindbender is one of 25 thrilling rides and attractions in Galaxyland. The little ones will love Galaxy Kids Playpark, where they can enjoy four storeys of an interactive space-themed play area and say "hi" to.
World Waterpark - West Edmonton Mall, Alberta - Wild and Wonderful! You won't believe it until you see this amazing five acre indoor waterpark. Enjoy the tropical 30C (86F) temperature, more than 20 different water activities, bungy jumping for those who dare, miles of waterslides, hot tubs, and a fun-filled interactive play area for toddlers and parents to enjoy together, called "The Little Caribbean". Hours of fun are waiting for you in the world's largest indoor wave pool, where the weather is great every day of the year!
Marineland - Niagara Falls, Ontario - Official Website For Marineland Theme Park. Visit Marineland where you will see the largest killer whale habitat in the world. Have closer look at these wonderful creatures, make contact with many other types of wildlife or just enjoy exciting rides in great amusement park. Fun for whole family.
The Bingeman's, Ontario, Canada - Bingemans' promises fun for the whole family! Hop on the Bumper Boats for a quick spin 'n' splash or try one of the six thrilling Waterslides. Torpedo down the double, super-twisting waterslide or take the long, slow slide to the bottom. Top it all off with a peaceful swim in our Regular Swimming Pool or a bubbling soak in one of the two Hot Tubs.

RELATED LINKS:
European Amusement & Theme Parks
American Amusement & Theme Parks
Other Amusement & Theme Parks
World Attractions Info
Travel General Info
Travel Books & Guides