Harry Potter Whomping Willow Game by Mattel
This game would be great for your next Harry Potter party or a great display in a room.
Harry Potter Quiddich Glow Puzzle by University Games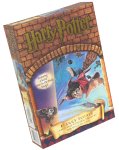 Harry Potter Glow Puzzle Hermione by University Games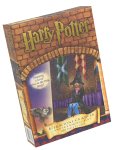 Harry Potter Sorcerer's Stone Glow Puzzle by University Games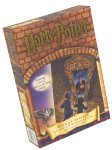 Harry Potter Diagon Alley Board Game by Mattel
In this board game, players race around to visit the six shops in Diagon Alley and load their trunks with required school supplies: an owl, wand, potion bottle, robe, book, and cauldron. Move fast, though, because items sell out, stores close, and opponents can slow you down--or, worse, steal your supplies--with magic spells.
Harry Potter Chamber Of Secret Trivia by Mattel
This clever and challenging Q&A contest pits the Slytherin house against the Gryffindor house in a game of Quidditch, where you score by answering trivia about Harry Potter and the Chamber of Secrets.
Harry Potter Micro Quidditch Playset by Mattel
Explore the magical world of Harry in miniature with this play set. In the shape of a castle with turrets and a gaming stadium, play set has extendable sides, 12 moving parts, 3 accessories and 2 mini-action figures including Harry Potter in his trademark glasses.
Harry Potter Powercaster Playset by Mattel
After obtaining the electronic action figures used with this interactive Harry Potter playset, kids can engage in action-packed spell casting battles inspired by J.K. Rowling's books.
Harry Potter Deluxe Micro Playset: Hogwarts School by Mattel
The school, a place almost too magical to imagine, is depicted here in miniature. A mystical sound effect signals the opening of the unit as 11 rooms are revealed, most featuring secret surprises. The Owlery, the Sorting Hat, the classrooms, and the library are all represented here, clearing the way for budding Rowlings to create their own adventures on the spot.
Harry Potter Trivia Game by Mattel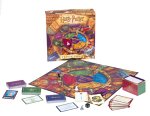 Combines your knowledge of Harry Potter trivia, with magical gameplay and a sorting ceremony, to make it exciting trivia game.
Harry Potter Sorcerer's Stone Game by University Games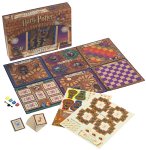 This game challenges players to master the same obstacles that Harry successfully overcame.