Carrot Cake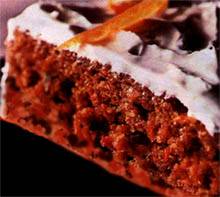 Ingredients:
2 1/4 cups unsifted all-purpose flour
1 1/2 cups sugar
2 teaspoons baking soda
1 1/2 teaspoons ground cinnamon
1/2 teaspoon ground nutmeg
1/8 teaspoon salt
1 cup vegetable oil
3 eggs
1/2 cup milk
2 cups shredded carrots
1 1/2 cups flaked coconut
3/4 cups chopped nuts
1/2 cup currants or raisins
Frosting:
1 package ( 3 oz. or 90 g.) cream cheese, softened
2 tablespoons margarine, softened
2 tablespoons milk
1/4 teaspoon vanilla
1 cup sugar


Preparation:

Oil and flour 13x9 inch baking pan; set aside.
Mix all dry ingredients. Add oil, eggs, milk and carrots.
Beat until all ingredients are moistened (approximately 2-3 minutes).
Preheat oven to 325º F.
Stir coconut and raisins into mixture.
Pour mixture into prepared pan and bake 55 to 60 minutes.
Cool completely on wire rack.
Blend all frosting ingredients and spread on cooled cake.
Did You Know?
Success in baking is not due to good luck, special school, or special touch, it comes as regular result from accurate measuring, proper mixing and using the best technique for that type of baking. It can be the achievement of anyone who follows a good recipe.

Try to bake your cakes when you have the creative urge and then store or freeze them for later use.

Make sure your cakes are completely cooled before storing or freezing.
Some recipes call for dusting the pans with flour. This helps the cake develop a thin, crisp crust and prevents the cake from absorbing the fat used to grease the pan. Use about one tablespoon all-purpose flour for dusting each pan, shaking and tilting until the bottom and sides have a fine coating. Then hold the pan upside down over the sink and tap it gently so excess flour falls away.