Greek Basil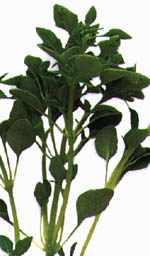 Greek basil has pungent peppery aroma and small leaves. This plant forms a nearly perfectly round globe, with thin, tiny leaves and a delicious scent. Despite its name, the variety probably originated in Chile. Stir into dishes with grains and into dishes with rice.



Did You Know?
Cultivated varieties (cultivars) of basil vary in several ways. Visually, the size and shape of the leaves varies greatly, from the large lettuce-like leaves of the Mammoth basil and Lettuce leaf basil to the tiny leaves of the Dwarf bush basil. More practically, the fragrance of the basil varies due to the varying types and quantities of essential oils contained in the plants.

Several basils, including some other Ocimum species, are grown in many regions of Asia. Most of the Asian basils have a clove-like flavour that is generally stronger than the Mediterranean basils.