Opal Basil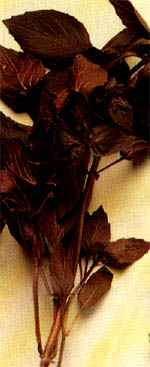 Most varieties of basil have green leaves, but opal basil is a beautiful deep purple color, well - flavored with pink flowers.

Opal or purple basil can be used to add aromatic flavor and color to your summer vegetables, tossed green salads or cream sauces. It has nice purple leaves and pink flowers.



Did You Know?
Basil and oregano plants contain large amounts of (E)-beta-caryophyllene (BCP), which might have a use in treating inflammatory bowel diseases and arthritis. BCP is the only product identified in nature that activates CB2 selectively; it interacts with one of two cannabinoid receptors (CB2), blocking chemical signals that lead to inflammation, without triggering cannabis's mood-altering effects.

Basil is sometimes used with fresh fruit and in fruit jams and sauces—in particular with strawberries, but also raspberries or dark-colored plums. Arguably the flat-leaf basil used in Vietnamese cooking, which has a slightly different flavour, is more suitable for use with fruit.