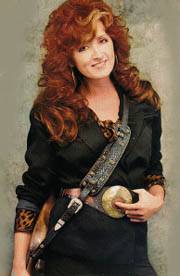 Bonnie Raitt - Music
Bonnie Raitt - Books
Born Nov. 8, 1949 in Los Angeles, California. Long before she became an exemplar of '90s adult-pop success with multi-platinum albums and armfuls of Grammys, Bonnie Raitt was a beacon of artistic integrity. That somewhat dry phrase hardly does justice to the blend of blues, singer/songwriter rock and soul standards on funky and fun '70s albums like her self-titled debut, Give It Up and Home Plate.
Her occasional foray into the mainstream during that decade -- notably a 1977 version of Del Shannon's "Runaway" that became a minor hit single -- was hardly typical: fan favorites were more likely to run along the lines of the mournful "Louise" or the sassy "Women Be Wise" (the blues classic that she occasionally performed live with its author, Sippie Wallace). After Nine Lives (1986), Raitt left her long-time label, Warner Bros.,and signed with Capitol. She emerged in 1989 with Nick of Time, which matched an ultra-personal title song (as much a revelation to her, it seemed, as to her listeners) with a hard-edged treatment of John Hiatt's "Thing Called Love," the poppy reggae of "Have a Heart" with a piano ballad, "I Ain't Gonna Let You Break My Heart Again."
After winning a Grammy trifecta including Album of the Year, it went to number one in Billboard. Nick's Don Was produced formula made for another four-million seller, Luck of the Draw, but 1994's Longing in Their Hearts proved less successful. After a live album, Road Tested, she made a welcome left turn on Fundamental, which was of a piece with some of the best of her early Warners music.Source:Amazon.com
Streetlights
Bonnie's first attempt at winning an audience, this album also introduces "Angel from Montgomery," the definitive version of John Prine's piercing ballad.
Bonnie Raitt
Raitt's self-titled debut, recorded when she was only 21 years old, is a stunner that still holds up decades later. Her slide-guitar skills are already in place, and her choice of material--which includes a reading for Stephen Stills's folk-rock gem "Bluebird," a sinuous take of Robert Johnson's classic "Walkin' Blues," a bluesy reworking of the Marvelettes' "Danger Heartbreak Dead Ahead," and a pair of fine originals ("Thank You" and "Finest Lovin' Man")--is impeccable. Best of all are two songs from Raitt's mentor, Sippie Wallace--"Women Be Wise" and the startlingly randy "Mighty Tight Woman." It was clear from the beginning that Raitt's was a career to watch. --Daniel Durchholz
Give It Up [ORIGINAL RECORDING REMASTERED]
This 1972 collection set the bar it took years for Raitt to clear again. Moving easily between sensitive singer-songwriter and bawdy blues-mama roles, the blazing redhead proved she was a talent to watch on several fronts. Raitt demonstrated a keen instinct for finding suitable material, adopting Jackson Browne's "Under the Falling Sky" and Eric Kaz's "Love Has No Pride" as if she'd penned them herself. The honeyed vocals and slashing slide guitar heard on Give It Up identified Raitt instantly to anyone who encountered this album. Unfortunately, it would be nearly two decades before many did catch on to her appeal.S.Stolder
Takin My Time [ORIGINAL RECORDING REMASTERED]
Along with Give It Up, Bonnie Raitt's third album, Takin' My Time, stands as her finest work prior to her 1989 critical and commercial watershed, Nick of Time. Raitt is backed on the album by members of Little Feat as well as Taj Mahal, legendary New Orleans drummer Earl Palmer, and Rolling Stones sax man Ernie Watts, giving the album a loose, grooving vibe. --Daniel Durchholz
Bonnie Raitt: Road Tested (1995) VHS
Bonnie is a great artist and this was a great concert.
Road Tested [LIVE]
A sense of self-confidence permeates Road Tested. If the '70s were marked by promise and the '80s by disappointment, the '90s, thanks to three smash studio albums, have been sheer triumph for Raitt, and she sounds damned satisfied. Her first live recording after 24 years in the business, Road Tested is an all-things-to-all-people effort, unsurprising given its creator has become all things to an awful lot of people. Steadfast favorites, '90s hits, and fresh additions to her repertoire are spiced by guest appearances by Bruce Hornsby, Ruth Brown, Charles Brown, Jackson Browne, Kim Wilson, and Bryan Adams. Raitt is in fine voice, her playing is great, and the band is solid. What's missing? Maybe some of that vanquished brashness and desperation. --Steve Stolder
Green Light [ORIGINAL RECORDING REMASTERED] Bonnie Raitt
The late '70s found Bonnie Raitt casting about for a new musical direction. Ironically, she found it on 1982's Green Light by going back to the basics. The album finds her using her road musicians, the Bump Band (including former Faces keyboardist Ian McLagan) and handling most of the guitar chores herself, resulting in a confident, high energy set. The hard-charging "Willy Wontcha" rocks with abandon, as do Raitt's covers of a pair of NRBQ tunes, "Me and the Boys" and "Green Lights." There's also a Bob Dylan track, "Let's Keep It Between Us" and a little easy in the islands charm, courtesy of Eddy Grant's "Baby Come Back."
--Daniel Durchholz