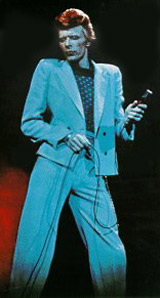 David Bowie Books
David Bowie DVD & Video
The Rise And Fall Of Ziggy Stardust (EMI) [ENHANCED CD]
Bowie's best album....the peak of his creative years
This CD is a must-have whether you are a hard-core Bowie fan or not. This creation really set the tone for the 1970's and spawned so many followers that traces of it can even be heard from today's rock musicians. Almost every song is a jewel in itself. The bonus tracks are cool as well if you are really a Bowie fan. A classic!
To hear thought-provoking music that genuinely pushed the borders of the medium, check out 'Low', 'Heroes', 'Lodger', 'Scary Monsters' - or reach back behind 'Ziggy' and get the hardly thought-provoking but endearingly dippy 'Hunky Dory'.
Outside
'Outside' is Bowie's best album since 1983's classy 'Let's Dance'. It is an eclectic mix of some of his weirdest moments available on CD. Ranging from the anthemic title track to the insanely catchy 'I have not been to Oxford Town' it is a must for any Bowie fan.
Earthling
While the album has garnered attention for incorporating elements of drum and bass, its most striking feature is truly Bowie himself as he recaptures an edge he hasn't shown since 1979's Scary Monsters. From the addictively danceable "Little Wonder" to the appropriately unnerving "Seven Years in Tibet," the album is full of the genius that made him so remarkable to begin with.B.Snyder
Scary Monsters

Some would argue that this is the last great Bowie album, and certainly his only great album of the '80s. While it lacked the bite of its punk brethren at the time, it appealed to some fans of that genre and to middle-of-the-road rockers as well. Muscular playing met with no-frills production, and the product as a whole was infused with a gloriously arty style. -Lorry Fleming
Early On (1964-1966)
Best of Bowie [ORIGINAL RECORDING REMASTERED]
This 20-track compilation does little to address the Chinese puzzle that has been Bowie's post-'85 career, but it does deliver an artistically dizzying slate of hits as it skips from one early peak to the next, from evocative cabaret ("Space Oddity," "Changes") through muscular glam rock ("Suffragette City," "The Jean Genie") to R&B("Young Americans" "Fame") and post-punk flirtations ("Ashes to Ashes," "Fashion") to the dance-club hits ("Let's Dance," "China Girl," "Modern Love") and '80s one-off duets ("Under Pressure" with Queen, "Dancing in the Streets" with Mick Jagger) that essentially marked the end of his superstar reign. Whole eras and at least one classic '70s album (Low) go completely unaddressed, but all of Bowie's signature hits are here, as well as Earthling's powerful, underappreciated "I'm Afraid of Americans." --Jerry McCulley
Hours
With Hours... David Bowie updates his musical wardrobe, but for the first time in his career he drops the facade. The album is a real-life memoir of loss, regret, and repentance. He boldly intertwines trip-hop rhythms, new-wave nods, Reeves Gabrels's wondrously odd guitar riffs, slow, deliberate ambient tempos, and atmospheric synth accents, all while maintaining a cohesive, otherworldly pop appeal. The CD marks the completion of an ironic circle, where Bowie draws inspiration from contemporary trends borne out of a musical style he invented decades ago. Looks like Major Tom has finally found his way home, and what a gorgeous homecoming it is. --Beth Massa
Heathen [Limited Edition
w/Bonus Disc]
Heathen is, in essence, the first "traditional" Bowie album worthy of kudos in years, as it successfully reunites Bowie with producer Tony Visconti, the man at the controls during Bowie's Berlin period. Heathen finds rock's greatest chameleon once again remolding his past, advancing to new vistas by moving up that metaphorical hill backward. --Kevin Maidment
All Saints: Collected Instrumentals 1977-1999
This collection of instrumentals offers a stark reminder of the sheer mind-boggling scope of David Bowie's sound and vision. Most of these 16 brooding soundscapes are plucked from Bowie's hugely influential 1977 albums, Low and Heroes. Taking his cue from Kraftwerk, Bowie enlisted ambient pioneer Brian Eno and decamped to Berlin. It's no exaggeration to say that the resulting albums were integral in defining the path of modern music. Throughout, there's a palpable sense of foreboding, perhaps best exemplified by "Sense of Doubt," a truly unsettling mesh of booming piano and spookily spiraling synths. That the Thin White Duke's Berlin material still dazzles is no surprise. However, it's the remarkable revelation--provided by a clutch of slightly more recent tracks--that he can still cut it that'll hearten disillusioned Bowie fans everywhere. --Chris King
Let's Dance [ECD]
David Bowie returned to recording after a four-year break with this relatively clean-cut 1983 album. Although offering another definite new direction for Bowie, with Nile Rodgers of Chic helping to produce a stylish post-disco dance sound, Let's Dance is a mixed bag. Much of the album's success was due to its three danceable hit singles-"China Girl," a sensuous Bowie/Iggy Pop collaboration, the distinctive "Modern Love," and the funky title track. --James Swift
Heroes
One of Bowie's more stellar moments working with Brian Eno, Heroes again sees the artist moving into barely chartered waters (at that point, 1977), creating moving, emotive rock and putting it right up against some very detached and futuristic synthesized sounds. --Lorry Fleming
Aladdin Sane

The second most important moment in Bowie's glam period, Aladdin Sane is full of smart, cutting-edge songs that hold up decades later as classic moments in rock.
Diamond Dogs [ECD]
George Orwell's classic tale of totalitarianism, 1984, was the inspiration for a project that David Bowie hoped would further solidify his standing as a rock visionary. Bowie was a natural artist to helm a musical companion to Orwell's allegory, since his own music exhibits an innate alienation. The concept ultimately broke down, but the music didn't. "Rebel Rebel" has become a rock staple, while "Sweet Thing," "Candidate," and the forthright yet experimental title track (Bowie as puppet master) offer additional highlights. Still, despite such benchmarks and its conceptual flaws, Diamond Dogs is best listened to as a thematic collection.
--Rob O'Connor
Stage [LIVE]
Bowie at his best!
Magical CD, live and superbly recorded with fantastic classics like; "Station To Station", "Heroes" and all the "Ziggy Stardust" classics. Bowie is the best, so brilliant, creative and passionate.
DERAM Anthology
David Bowie [PGD
Special Markets]