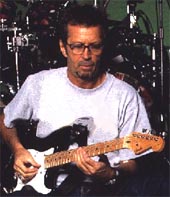 Eric Clapton is in a unique position, he is both the world's best known rock guitarist and a bona fide pop star.
Riding with the King
Eric Clapton, B.B. King
What they do here is cover 12 classic blues songs, many of them staples of King's repertoire, so the title of this album makes sense. Whether it's the rollicking rock & roll of the title track, or the acoustic shuffle of "Key to the Highway," or the sweet notes of "When My Heart Beats Like a Hammer," a real sense of pleasure comes through on this album, the kind of pleasure one gets from jamming late at night with a good friend. --Genevieve Williams
Unplugged [LIVE] Eric Clapton
Clapton caught the "unplugged" trend just at the right time, when the public was hungry to hear how well rock stars and their material can hold up when stripped of elaborate production values. Clapton himself seemed baffled by the phenomenon, especially when picking up the armload of Grammys Unplugged earned him, including Record and Song of the Year for "Tears in Heaven," the heart-rending elegy to his young son, Conor. That song and a reworked version of "Layla" got most of the attention, but the rest of the album has fine versions of acoustic blues numbers such as "Malted Milk," "Rollin' & Tumblin', and "Before You Accuse Me" that make it worth investigating further. --Daniel Durchholz
Slowhand [ORIGINAL RECORDING REMASTERED]
Clapton had already established himself as a guitar legend by the time he released Slowhand. His heroin habit long behind him, Clapton's songwriting mastery was fully evident on the album, particularly in the stunning ballad "Wonderful Tonight." It fully actualized all of the potential hinted at in his earlier "Promises," and Clapton trusted himself enough to slow things down. Some of his most expressive guitar work can be found throughout this album, not just within "Wonderful." Ironically enough, Slowhand is probably best known for the hit "Cocaine."
No Reason to Cry [ORIGINAL RECORDING REMASTERED]
One More Car: One More Rider (CD & DVD Set) [ENHANCED]
Clapton's first live album since1992's zeitgeist-capturing Unplugged, is, as one would expect, full of well tailored highlights from his back-catalog of bristly, well-kept blues. Recorded in Los Angeles and Tokyo during his 2001 world tour (the accompanying DVD is taken exclusively from the Los Angeles show), and featuring backing from the likes of Andy Fairweather-Low and Billy Preston, it's an album that serves to satisfy both Clapton purists (there's a four-song sequence of tracks from Pilgrim, shorn of their original anodyne synthesizer embellishments) and adult pop fans who prefer their blues from the decanter rather than the bottle ("Tears in Heaven," a sublime "Bell Bottom Blues," a rather poised, applause-riddled "Layla"). One More Car is an engaging live document that finds EC far from asleep at the wheel. -K.Maidment
The Blues
There's a telling subtext to this retrospective of Eric Clapton blues sides. Culled from recordings cut between 1970 (the Layla sessions) and 1980 (when Clapton cut his final Polydor album, Another Ticket), these sides finds EC exploring his beloved blues while in a fragile state of mind and body. After all, he was on heroin when he concocted Layla, and though he kicked that habit in the early '70s, he continued to test his tolerance for alcohol throughout the decade. When you think of the Clapton of the '60s, you think of the fire and ice of his playing with the Yardbirds, John Mayall, and Cream. When you think of his '70s playing, it's wearier and perhaps more reflective. (It was easy to mistake melancholic for mellow at the time.) The 35 selections included on these two discs find the temporarily deflated rock superstar leaning on the blues for support as he draws on likes of Muddy Waters, Robert Johnson, and Little Walter for inspiration.
Reptile
Working with essentially the same team that put together '00's Riding with the King (sans, of course, B.B. King), Reptile feels like a summary of the many guises Clapton has adopted in his illustrious past. Blues has always been the backbone of EC's music and here he tackles Walter Davis's "Come Back Baby" with surefootedness. Clapton has mined J.J. Cale's fine-and-mellow repertoire in the past, coming up with the hits "Cocaine" and "After Midnight"; here he revives Cale's "Travelin' Light" with unfussy aplomb. He kicks things off with an instrumental samba, ventures back into lite rock, and mixes originals and covers, the latter bunch including Stevie Wonder's "I Ain't Gonna Stand for It" and James Taylor's "Don't Let Me Be Lonely Tonight." In the end, it's apparent this reptile is something of a chameleon. --Steven Stolder
The Clapton Chronicles
The Clapton Chronicles owes less to the groundbreaking blues-rock of Clapton's '60s and '70s classics than to the polished-to-a-glare pop of Phil Collins, who produced one of the tracks included in this 14-song anthology.
The Cream of Clapton
For a single disc this is an admirable chronological tour of superstar Eric Clapton's mid '60s to early '80s career.
461 Ocean Boulevard [ORIGINAL RECORDING REMASTERED]
This was Clapton's comeback record after a long bout with heroin addiction. Some of his best songs are here, as well as his cover of Bob Marley's "I Shot the Sheriff."
Time Pieces: Best of Eric Clapton
If you're looking for that perfect slow hand CD to carry around in the car, Time Pieces is the disc for you. Featuring 11 of Clapton's most radio-friendly hits ("I Shot the Sheriff," "After Midnight," and "Layla," of course), this CD also offers up some of Clapton's most romantic moments in "Wonderful Tonight" and his most cynical in "Promises." Though there's nothing here that you don't have on another couple of discs, Time Pieces is a convenient package of great hits that make you want to roll down the windows, crank up the stereo, and roll. --L.A. Smith
Just One Night [ORIGINAL RECORDING REMASTERED]
Great guitar album! Guitar legend Clapton continues to amaze in concert.
Journeyman
A fine collection of songs with brilliant lead guitar work. One of Clapton's best albums.
There's One in Every Crowd [ORIG. RECORD. REMAST.]