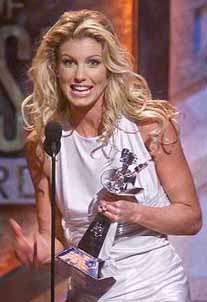 Faith Hill is famous for picking music that's perfect for her stunning voice - and she's proven that the strength is in the songs.
"It has to have meaning. When I sing a song, I am in that songÖ and hopefully people hear and feel that. I canít draw that line of trust with my fans if I donít sing from my heart every time Iím in front of a microphone." says Hill
Faith Hill Biography
Faith Hill Gallery 1
Faith Hill Gallery 2
There You'll Be: The Best of [EXTRA TRACKS] [IMPORT]
Includes Three Tracks More Than Other International Versions, Including Pop Remix of "Breathe", the Love to Infinity Mixof "The Way You Love Me" and a Cover of Bruce Springsteen's If I Should Fall Behind".
Love Will Always Win [EXTRA TRACKS] [IMPORT] - Faith Hill
Special edition of the country sensation's first-ever hits collection with two bonus tracks added, 'Let Me Let Go' & 'It Matters To Me'. 13 tracks total, also including the smash 'This Kiss' and the version of 'Let Me Let Go' that was featured on the soundtrack to the Paul Newman/ Kevin Costner/ Robin Wright-Penn film, 'Message In A Bottle'. Contains songs from all three of her albums for Warner Nashville. 1999 release.
Cry [ENHANCED]
Faith Hill
Faith at her best vocals ever. The album focuses on the things closest to her heart and she has chosen songs that show a much wider range of emotion than she has with her previous 2 albums. Basically, every song on this album is a winner.
Cry [CD-SINGLE] [IMPORT] Faith Hill
The First Single from her 2002 Studio Album of the Same Name. Includes Two Exclusive NON-LP B Tracks that Do Not Appear on the Album, Making this an Essential Piece for Fans.
Faith - Faith Hill
Faith works with producers Dann Huff and Byron Gallimore to create a distinctive country-pop style that is as mature as it is entertaining. As her massive crossover hit "This Kiss" proves, Faith Hill and her collaborators know how to make the most of her voice and exuberant personality. The album has plenty of songs that use her talents, including the initial smash hit.
Take Me As I Am
Faith Hill
"Take Me As I Am" is Faith's debut album. Besides the hit "Wild One," Faith's voice shines in her take on Janis Joplin's hard-rockin' classic, "Piece of My Heart," Not bad: Two No. 1's in two tries!
Faith Hill's stunning good looks cannot be denied, but her talent is more than skin - deep. Her voice combines the same sort of spunkiness employed by her idol, Reba McEntire, with a slight tremelo reminiscent of Dolly Parton. In terms of material, however, Hill has yet to claim a niche that's all her own. On the one hand, she's already a master of breezy, throwaway singles, best typified by her debut smash, "Wild One." On the other hand, she delivers a number of heavy "message" songs, most of them having to do with cataloging the evils men do to women. Hill is not really a writer, so chances are she'll continue to be blown whichever way the next hit single takes her.
Source: MusicHound Country: The Essential Album Guide
Breathe - Faith Hill
Breathe debuted at No. 1 on Billboard's Top 200 and Country Album Charts and has sold over three million copies. It contains No.1 singles including the cross-over smash "Breathe" and "The Way You Love Me." Breathe, again mixes pop and country, and this time includes a Faith's steamy duet with hubby Tim McGraw, "Let's Make Love," as well as a Hill's version of Bruce Springsteen's "Should I Fall Behind"
There You'll Be [Import CD Single] Faith Hill
It Matters To Me
Faith Hill
Hill's second album "It Matters to Me" (1995) surpassed the million sales mark twice as fast as "Take Me as I Am". The title cut spent three weeks at No.1 on the charts, making it the best-selling country single for the first six months of 1996.