On Her Way : The Shania Twain Story - by Scott Gray
Mass Market Paperback 1edition (December 1998) Shania Twain is the hottest woman in country music. With a truckload of number one hits, album sales to rival those of fellow Canadian divas Celine Dion and Alanis Morissette, scores of major awards (including a Grammy for Best Country Album), and legions of loyal fans around the world, Shania Twain is the reigning goddess of New Country.
But it took true grit for this sultry songbird to rise from a hardscrabble childhood to megastardom.
Shania Twain
- by Michael McCall

Paperback-192 pages 1 ed. (July 1999) Shania Twain is not your average country music star, for her appeal extends well beyond country music fans. Millions of music lovers of all types have responded to her singular brand of country-pop, catapulting singles like "You're Still the One" to the top of the charts. Shania has the multi-platinum album sales, she has the high profile, she has the rapt attention of, it seems, the world...and yet she is far more than the sum of these many successes.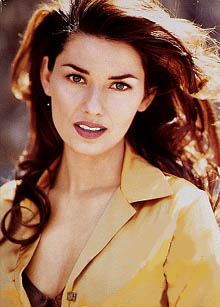 The hottest woman in country music - Shania Twain is back!

On Her Way : The Life and Music of Shania Twain
by Barbara Hager, Meet S. Twain
Paperback - 208 pages Berkley books edition (December 1998)
Fans will learn about Twain's turbulent childhood, the devastating loss of her parents when she was only 21, the creative dynamic she enjoys with her husband, producer "Mutt" Lange, the influence of her Native American background on her life and career, and much more. Also included are eight pages of photos, a discography, lists of awards, and other facts for those who want to know more about this superb singer and songwriter who's truly "on her way."
Shania Twain : On My Way
- by Dallas Williams

Paperback-232 pages (Dec.1997)
From childhood poverty, the tragic death of her parents, and the controversy surrounding her Ojibwa heritage to the professional and personal courtship of her by producer John "Mutt" Lange, this book presents all facets of Shania Twain's heartwarming success story. 35 illustrations Targeted publicity. Internet promos.