For some 40,000 years before European settlement commenced in the late 18th century, the Australian mainland and Tasmania were inhabited by around 250 individual nations of indigenous Australians. After sporadic visits by fishermen from the immediate north, and European discovery by Dutch explorers in 1606. The first recorded European sighting of the Australian mainland was made by the Dutch navigator Willem Janszoon, who sighted the coast of Cape York Peninsula in 1606. During the 17th century the Dutch charted the whole of the western and northern coastlines of what they called New Holland but made no attempt at settlement.

In 1770 James Cook sailed along and mapped the east coast of Australia, which he named New South Wales and claimed for Great Britain. Cook's discoveries prepared the way for establishment of a new penal colony. The British Crown Colony of New South Wales began a settlement at Port Jackson by Captain Arthur Phillip on 26 January 1788. This date was later to become Australia's national day, Australia Day. Van Diemen's Land, now known as Tasmania, was settled in 1803 and became a separate colony in 1825. The United Kingdom formally claimed the western part of Australia in 1829. The population grew steadily in the following years; the continent was explored, and during the 19th century another five largely self-governing Crown Colonies were established. Separate colonies were created from parts of New South Wales: South Australia in 1836, Victoria in 1851, and Queensland in 1859. On 1 January 1901 the six colonies became a federation and the Commonwealth of Australia was formed.

The Northern Territory was founded in 1911 when it was excised from South Australia. South Australia was founded as a "free province"—that is, it was never a penal colony. Victoria and Western Australia were also founded "free" but later accepted transported convicts. The transportation of convicts to the colony of New South Wales ceased in 1848 after a campaign by the settlers. Port Arthur, Tasmania was Australia's largest gaol for transported convicts.

The Indigenous Australian population, estimated at 350,000 at the time of European settlement, declined steeply for 150 years following settlement, mainly because of infectious disease. The "Stolen Generations" (removal of Aboriginal children from their families), which historians such as Henry Reynolds have argued could be considered genocide by some definitions, may have contributed to the decline in the indigenous population. Such interpretations of Aboriginal history are disputed by some conservative commentators, such as former Prime Minister Howard, as being exaggerated or fabricated for political or ideological reasons. This debate is known within Australia as the History Wars. Following the 1967 referendum, the Federal government gained the power to implement policies and make laws with respect to Aborigines. Traditional ownership of land—native title—was not recognised until 1992, when the High Court case Mabo v Queensland overturned the notion of Australia as terra nullius (literally "no one's land", effectively "empty land") at the time of European occupation.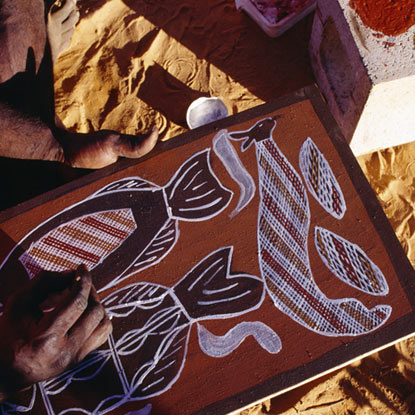 DID YOU KNOW?



Australia Day commemorates the arrival of European settlement in Australia on 26 January 1788.

Eleven ships made up the First Fleet and took 251 days to travel from England to Australia. On board were 770 convicts, 700 crew, personnel and families, 209 fowls, 74 pigs, 35 ducks, 29 sheep, 29 geese, 19 goats, 18 turkeys, 5 cows, 4 stallions, 3 mares and 2 bulls.