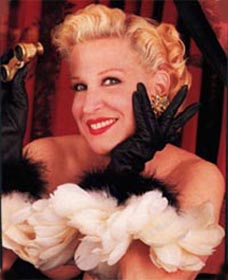 Midler is simply the best at singing, acting, and keeping the audience with great entertainment to make them cry and laugh at the same time.
Intimate Portrait: Bette Midler (1998) VHS
If you have ever wanted to know more about the life of Bette Midler, this is the movie for you. It tells about her albums and movies and about the ups and downs of her life. "It's the Divine Miss M as you've never seen her before!"
That Old Feeling (1997) DVD
When an inimically divorced couple meets up again at the formal wedding of their somewhat humiliated daughter, their animosity is rekindled on sight, But that spark quickly snowballs into an old flame, as the energies they expend on insults an other inflammatory incivilities quickly translates into a burning passion.
Hocus Pocus (1993) DVD
In 1693, the citizens of Salem, Massachusetts go into a frenzy when they discover that 3 among
them -- Winifred, Sarah and Mary Sanderson -- are witches. Fearing their pagan villainy, the community agrees to hang the old hags. But head sorceress Winifred vows they'll come back to life one day and seek vengeance. 300 years later, Max, a cynical teenager stuck chaperoning his kid sister as she goes trick-or-treating, is spotted by classmate-dream girl Allison. In order to impress her, Max lures them into the Sanderson sisters' house where they accidentally bring the wretched shrews back to life. The witches now have one night to renew their life force -- or they'll disappear forever. Can the kids stop them from achieving their nasty purposes?
Stella (1990)- VHS
Bette Midler stars in the title role of "Stella," a 1990's update of two previous tearjerkers. A single mother works above and beyond her duty to provide a better life for her daughter than the one she had.
Isn't She Great (2000) DVD
Bette Midler plays the brash, self -obsessed Susann, who started as a struggling actress yearning for fame and not too picky about what she was famous for. Fortunately, she catches the eye of personal manager Irving Mansfield (Nathan Lane), who seems to have no particular skills either but who is so passionately devoted to his client that he marries her.
Gypsy (1993) VHS
This faithful broadcast TV remake of the classic Jule Styne/Stephen Sondheim musical looms as a career triumph for top-lined Midler -and a bittersweet measurement of how far mainstream film and TV have retreated from the glories of musical theater. By the time Midler, as the mother of all stage mothers, observes, "I was born too early and started too late, " it's only too obvious that the star's words are an ironic inversion. Had Midler been born earlier, she certainly would have reigned as a major musical comedy star. In a role form-fitted to Ethel Merman's brassy persona and brassier voice, Midler more than holds her ground musically and, especially, dramatically.
Down and Out in Beverly Hills (1986) DVD
Featuring a neurotic dog, an anorexic daughter, a sexually confused son, and Little Richard as a neighbor, this riotous household and its strange yet sympathetic inhabitants are the ingredients for one of the freshest, funniest comedies in years. --Robert Lane
Ruthless People (1986) DVD
A milestone comedy of the 1980s, Ruthless People delighted critics and audiences alike and set the tone of Hollywood comedies for years to come. Along with that other popular farce about wealthy Californians, Down and Out in Beverly Hills, this ingenious romp revived Bette Midler's career and launched Disney (by way of its subsidiary, Touchstone Pictures) into the lucrative production of R-rated comedies; it also ensured the star power of then-TV star Danny DeVito. --Jeff Shannon
Big Business (1988) DVD
This film is so funny. Bette Midler and Lily Tomlin are fantasic together
Drowning Mona (2000) DVD
Drowning Mona, a disconsolate black comedy about a bitter old harridan (Bette Midler) who takes a header into a lake in one of the tiny, tinny cars, and the sheriff (Danny DeVito) who has a town full of folks who were itching to see her dead.
The First Wives Club
(1996) DVD
Goldie Hawn, Bette Midler, and Diane Keaton prove that revenge is a dish best served cold. Former college buddies, they reunite at the funeral of a dear friend who took a swan dive onto Fifth Avenue. All three discover they share the same unhappy history of husbands who dove into middle-age by dumping them for trophy wives. Forming a warring triumvirate, they decide to get even, and along the way remind themselves of long-forgotten capabilities. The action gets a little too "wacky" at times, but the gals are great.
For the Boys (1991) DVD
A lavish musical melodrama chronicling the career of a popular USO singer and her partner, a
seductive comedian as notorious for his roving eye as he is for his jokes. The pair team up for a USO revue in London 1942, and though they quarrel offstage, onstage they're the perfect couple. They remain together fifty years, weathering two more wars, broken marriages, and personal tragedies.
Beaches (1988) DVD
The story of a deep friendship, lasting from childhood to beyond death, between two very different women -- one a poor but ambitious Jewish girl from the Bronx who goes on to become a famous Broadway star, and the other an attractive WASP from a wealthy San Francisco family who starts out with all the advantages in life yet manages to find nothing but disappointment.
Divine Madness! (1980) DVD
Divine Madness makes an absolute spectacle of itself. Bette Midler's raunchy, entertaining persona is on high in this concert film filmed in Pasadena. Midler tells dirty jokes, berates herself and the audience, and most of all belts out (some may say shrieks out) covers of Bruce Springsteen and rock and swing classics.