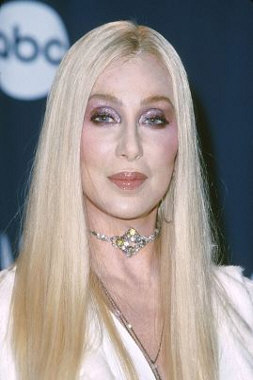 Over 30 years, CHER has been a singer, an Oscar-winning actress, a fashion extremist, an infomercial queen, a grieving ex-wife - and most at all SURVIVOR.
Mermaids (1990)
In the early '60s, nomadic single mom Mrs. Flax (Cher) packs up her two daughters, Charlotte (Winona Ryder) and Kate (Christina Ricci), in a beat-up Chevy wagon and moves to small-town Massachusetts. Preteen Kate is obsessed with swimming, while 15-year-old Charlotte is searching for ways to rebel against her mom (and mom's flirty ways). The route she chooses is to become fascinated with Catholicism and all its arcane rituals, even though the family is Jewish. Her coming of age is handled with plenty of Wonder Years-style voiceovers as she fantasizes about Christ, the saints, the Pope, the Church--all things Catholic. Cracks in her religious armor begin to appear, though, in the form of a hunky local guy (Michael Schoeffling) who works at the convent. Meanwhile, her mom strikes up a romance with the town shoe-store proprietor, Lou (Bob Hoskins).
Good Times (1967)
Sonny & Cher
This is such a colorful, whimsical video that it shows the beginning of the struggles and climbs and the raw talent & determination both Sonny & Cher had early on. You will laugh your way through their goofy movie spoofs and sing along with their catchy tunes.
Tea With Mussolini
(1999) DVD
In filming this semi-autobiographical account of life in Italy during the dawn of World War II, director Franco Zeffirelli imbues Tea with Mussolini with the mixed blessings of fond reminiscence. It's a warmly inviting film, as impeccable as any Merchant-Ivory production, but like a hazy memory it's uncertain in its narrative intentions.
And yet with an exceptional cast to compensate, the film's as engaging as it is inconsequential-Jeff Shannon
Faithful (1996) VHS
On her 20th anniversary, the unhappy, neglected wife of a wealthy businessman is seized by a hit man who ties her up and awaits a signal from her husband to murder her. Coproduced by Robert De Niro; filmed in 1994.
If These Walls Could Talk (1996) DVD
If These Walls Could Talk is a bold and provocative examination of how the laws and attitudes about abortion in the United States have both changed drastically and remained so much the same
Suspect (1987) DVD
Suspect is an endearingly silly suspense movie with an excellent cast. Cher stars as Washington, D.C., public defender Kathleen Riley, who is beginning to question the meaning of her career.
The Witches of Eastwick (1987) DVD
Cher, Susan Sarandon, and Michelle Pfeiffer play the women who discover their untapped magical powers by accident. The smart and sexy singles, out of place in the conservatism of their village, find happiness, however briefly, in the arms and bed of the libidinous devil, but he's got his own ulterior motives. Miller revels in the sensual display of sex, food, and magic, whipping up a storm of effects that finally get out of hand in an overblown ending. It's a handsome film with strong performances.
Moonstruck (1987) DVD
Cher is focused and funny as a widow who feels she should marry an older fellow (Danny Aiello), but then falls for his black-sheep brother (Nicolas Cage). Olympia Dukakis and Vincent Gardenia are perfect as her parents, and John Mahoney (of TV's Frasier) has a memorable, small role as a middle-aged man on the make who gets a lecture from Dukakis's character.
Mask (1985) VHS
Based on the true story of Rocky Dennis, who was born with craniodiaphyseal dysplasia, a disease that causes calcium to accumulate in the skull and makes the head grow to twice the normal size. Despite his fatal disorder, the 16-year-old Rocky just wants to live a normal life with his mom and her biker-gang buddies. His optimistic and fun-loving outlook wins him many friends and supporters, including a beautiful blind girl who he meets while working at a summer camp.