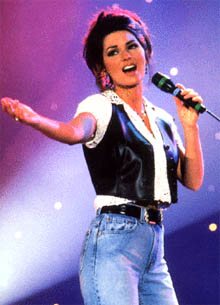 Shania Books
Shania Movies
If the true scope of sensation could be measured in water, then Shania is Niagara Falls.
Her pleasant, if unremarkable, new country fare has made her a multi-million seller and something of a national heroine to boot. The fact that she's prettier than anyone on Friends doesn't hurt things, either.

Before Shania Twain hooked up with Robert John "Mutt" Lange--who co-wrote, then produced her breakthrough album Woman in Me (and in the process, fell in love with and married her) -- she seemed headed for a career as a garden-variety female country singer, lovely of voice and visage but unspectacular in almost every other way. Lange, who previously was known as the producer of such 1980s arena-rock acts as Def Leppard, Bryan Adams and the Cars, brought out the best in Twain, both in terms of the material they co-wrote and the pop/rock sheen he lent the album via his production.

Up! - Shania Twain
Come On Over

Following her smash hit The Woman In Me was no easy task for Shania and husband/producer Mutt Lange.
With Come On Over the sexy vixen of modern country has carved out a bigger niche for herself that is sure to please her growing throng of fans. With a huge helping of rock and roll added to her country trimmings, Twain proves her success has been no fluke. As a rule, she goes out of her way to break the traditional Nashville mold. Even her songwriting skills are at the forefront; Shania and Mutt co-wrote all the songs on this collection.
Come On Over
(+ Bonus CD) [IMPORT]
[BOX SET] - Shania Twain

It is a must have for any music fan, not just country.
There are so many different styles on this C.D. that I am sure there is something for everyone.
The Woman In Me
- Shania Twain

THE WOMAN IN ME won a 1996 Grammy Award for Best Country Album. "Any Man Of Mine" was nominated for Grammys for Best Female Country Vocal Performance and Best Country Song. Shania Twain was nominated for the Grammy for Best New Artist.
Shania Twain

Now from north of the 49th parallel comes Shania Twain, even if her debut is firmly in the modern Nashville mould that's rather bigger on ballads than actual emotion. Still, there's a folksy edge to her voice which can turn appealingly blue on Forget Me and Got A Hold On Me, while There Goes The Neighbourhood and the delightful Dance With The One That Brought You suggest that she could go the distance, given the right songs.
NEXT