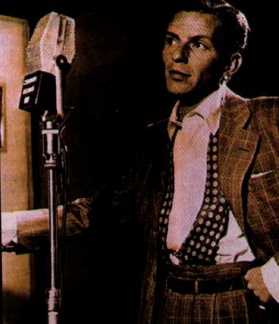 Frank Sinatra Books
Frank Sinatra Movies
"It took me a long, long time to learn what I now know, and I don't want that to die with me."
- Frank Sinatra
Leader. Voice. Swinger. Fighter. Drinker.Actor.Prankster.Gentleman. Father. Lover. Friend.
The most important entertainer of the 20th century, Frank Sinatra did nothing small. He was all about More, all about Move.
Whenever he went became his personal playground. Those who followed learned Much. He rounded up the most colorful pallies alive -- his fabled Rat Pack of Dean Martin, Sammy Davis Jr., Peter Lawford and Joey Bishop -- and made history. Sinatra was always the last to go to sleep and the first to raise hell. He ruled the world on his own terms, inspiring other mortals to ponder their own lives and wonder, What would Frank do?
Frank Sinatra was the first true superstar. He not only lived the American dream, he defined it.
My Way
Whether he was responding to commercial pressures, or just trying to prove that he could still be hip in the Age of Aquarius, remains the subject of much debate; in any case, My Way is probably the best of his late-'60s pop efforts. --Dan Epstein
The Complete Capitol Singles... [BOX SET]
Each song on this 96-cut collection is wonderful. And the Capitol years were when Sinatra's fullest voice was used on material by the best (Arlen, Porter, Van Heusen, Cahn, Styne). But a purist will miss the narrative that was so special in the original albums. Records such as This is Sinatra, Songs for Swingin' Lovers, and Only the Lonely were among the first concept albums in pop music.
Sings For Only The Lonely [ORIGINAL RECORDING REMASTERED]
Sinatra's greatest ballad album (a Grammy-winner for album design in 1959!). Every single "suicide song" (as Sinatra liked to call 'em) on Only the Lonely is a stunner that will take your breath away.
Sinatra 80th: All The Best
Frank Sinatra turned 80 in 1995, and Capitol released this two-disc "best of" in celebration. Sinatra's initial tenure at Capitol, which lasted from 1953 to 1962, is generally considered to be his artistic watermark. His voice and technique had improved considerably since his initial peak of popularity in the mid-'40s (the "swinging" phrasing most commonly associated with Sinatra's style really came to the fore during the Capitol years); he also had the good fortune to work with Nelson Riddle and Billy May, whose inventive arrangements certainly brought out the best in Sinatra's singing.
Come Dance With Me!
[ORIGINAL RECORDING REMASTERED]
As very few of the 11 songs in this collection even made it onto the charts, the title of this record is something of a misnomer.
This does, however, offer an intriguing snapshot of Sinatra's late-'60s /early -'70s career.
Strangers In The Night
Include "On a Clear Day You Can See Forever," "The Most Beautiful Girl in the World," and "You're Driving Me Crazy." The CD is a straight, no-frills reissue of the original vinyl release.
16 Most Requested Songs
This 16-track sampler from Frank Sinatra's Columbia years overlaps Sings His Greatest Hits by five songs, but in many ways is a more interesting & idiosyncratic collection.
Songs For Swingin'
Lovers (Capitol)
A Jolly Christmas From Frank Sinatra
This album is a pure delight. A must have for Christmas music lovers
September of My Years [ORIGINAL RECORDING REMASTERED]
From the evocative cover painting to the impeccably chosen songs within, this 1965 album harkens back to Sinatra's great Capitol-era concept albums like In the Wee Small Hours & Sinatra Sings for Only the Lonely. The theme revolves around a man approaching his 50s, looking back with a mixture of nostalgia, regret, and uncertainty; given Sinatra's age at the time (he was 49 when this was recorded) and the way he invests himself in the material, it's impossible to interpret the record as anything but autobiographical. Wistful numbers such as "Don't Wait Too Long," "It Was a Very Good Year," "September Song," and the title track all hit the emotional bull's eye but everything here is excellent. Unquestionably his finest Reprise era achievement. --Dan Epstein
The Concert Sinatra
This misleadingly titled 1963 collaboration with Nelson Riddle is not a live album, but rather a collection of eight numbers (half of them Rodgers and Hammerstein compositions) from popular stage musicals.
Everything Happens To Me
This is a very special CD, as the songs to go on this collection were picked by THE MAN himself. In the liner notes, he implies that these songs are the way he felt about his life - his personal take on the great body of work by Sinatra. This is a Reprise collection - therefore, it covers songs from 1961 to 1981.
The Best Of The
Capitol Years
I've Got A Crush On You
This is the young, fragile-sounding Sinatra in a collection of 14 ballads recorded during his 1943-52 tenure at Columbia.