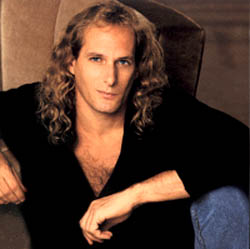 Michael Bolton is that rare thing, a white man whose voice could pass for being black. He's also the writer of thumping AOR tracks for Cher, Starship and Laura Branigan, among others.
Only a Woman Like You
Only a Woman Like You for the most part shows the singer at his very best. Like a hero lifted out of the pages of a Harlequin romance novel, Bolton whispers sweet nothings with every breath he takes. While most of the album sticks tight to a tried-and-true formula of impassioned protestations of undying devotion, Bolton takes a left turn into the boy-band zone with the Latin-tinged "Dance with Me," sounding like an aging Backstreet Boy backed by breaks and rhythms that just beg to be choreographed. Similarly, the misbegotten "I Wanna Hear You Say It" and "This Is the Way" do Bolton's considerable gifts a disservice. --Jaan Uhelszki
Timeless (The Classics) - Michael Bolton
All That Matters - Michael Bolton
These are strong, emotional love songs and while they don't express deep and complicated emotions, they are seductive, especially aimed for the gals.
Time, Love & Tenderness - Michael Bolton
Michael Bolton proved that he knows the art of being a great, soulful singer of love songs with this album.
Michael Bolton
Every song on this album maintains its own identity, with Bolton belting out arguably his best vocals ever.
Soul Provider - Michael Bolton
A really great album, Michael's amazing voice powers through the strong dynamics of the album. Beautiful lyrics and great production make it a timeless classic.
My Secret Passion-The Arias - Michael Bolton
This is a valiant try that can never, because of the equipment, be successful on operatic terms, but as an artistic endeavor--even one that ultimately fails --this is to be praised. --Robert Levine
The One Thing - Michael Bolton
Bolton At His Best! Anybody that likes Michael Bolton would definitely not be disappointed with this album.
The Hunger - Michael Bolton
In many ways, this is the AOR/ soft -rock fan's "last" Michael Bolton album. After this, he shifted towards pop, huge commercial success and a scarily diminishing hairline.
Timeless: The Classics, Vol. 2 Michael Bolton
Wow, so this CD has "Sexual Healing" on it. And "Like a Rolling Stone"and "Try a LittleTenderness," too. Cool.