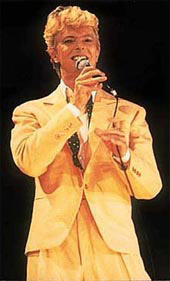 David Bowie Books
David Bowie Music
David Bowie DVD & Video
Singer, musician, painter and actor David Bowie was born David Robert Jones, 8 January 1947 in Brixton district of London, England. He began performing music when he was 13 years old, influenced by the jazz music of the time. After a series of underrated singles, he began his successful career with Space Oddity and became known throughout England. His most famous incarnation as Ziggy Stardust and his backing band the Spiders From Mars made Bowie an international star and the leading rock and roll group of the seventies. During these years, David Bowie repeatedly wowed and scandalized public opinion with his eccentric antics, his bisexuality and his relationships. David Bowie was an indispensable voice of the 70s, pursuing a rare compositional and emotional balance as he adopted a variety of guises and experimented with different styles of music. His unparalleled transformation ability, style-forming ideas and safe instinct for musical trends made him the idol of whole generations and the role model of countless musicians. Only few rockers ever had such lasting impact. During the 80s and 90s, however, Bowie adopted a more straightforward pop approach with less satisfying results. There's no denying that Bowie demonstrated remarkable skill for perceiving musical trends at his peak. Each one of his phases and transformations in the '70s sparked a number of new musical sub genres including punk, electronica, new wave & goth-rock.
Christiane F. Wir Kinder
[Original Soundtrack]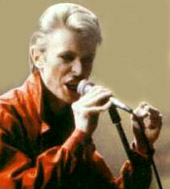 The Berlin period soundtrack
This is the soundtrack for a German film of the same name; a film soaked in filth, depression, addiction, and prostitution. No black humor--it's the Anti-Trainspotting. But the music is upbeat; at times rocking, at times soothing...it provides a sharp contrast to the subject matter, and it symbolizes what Christiane and her friends were searching for but just couldn't seem to grab.
Best of 1974-1979 [IMPORT]
Compilation captures Bowie during the waning & post-Ziggy Stardust days. Includes 'Fame', his collaboration with John Lennon, 'John, I'm Only Dancing (Again)', 'Heroes', '1984', 'Young Americans' & thirteen more.
Young Americans [ECD]
With 1975's Young Americans, David Bowie chose to head in yet another "new direction," this time extrapolating on the slick disco-soul vibe that characterized 1974's David Live. Surrounded by an army of backup singers (including Luther Vandross) and smooth session players, Bowie actually makes the stylistic affectation work on 3 of the songs-"Fame," "Young Americans," and "Can You Hear Me."D.Epstein
Peace On Earth / Little Drummer Boy [CD-SINGLE]
David Bowie, Bing Crosby
Don't hesitate to purchase this CD. It is not only the best rendition of these songs you will ever hear, but seeing David Bowie and Bing Crosby sing together is remarkable.
The Best Of David Bowie 1969-1974 [IMPORT]
UK issue of 20 track 'Best Of' which was originally released in the U.S. in 1997 for a limited time. Includes the classics you'd expect, 'The Jean Genie', 'Space Oddity', 'Starman', 'Drive In Saturday', 'Ziggy Stardust', 'Suffragette City', 'Changes', 'The Man Who Sold the World' and 'Sorrow', relative obscurities like the B-side 'Velvet Goldmine', Bowie's version of 'All the Young Dudes' and alternate takes of 'John, I'm Only Dancing' and 'The Prettiest Star'.
David Live [LIVE]
This record is one of his best. Yes the quality of the recording my not be up to todays standard but the energy is there. Bowie Rocks