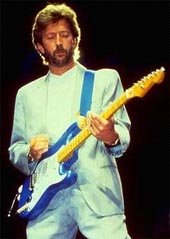 Eric Clapton
Eric Clapton - Music
Eric Clapton for the Classical
by Eric Clapton
This fingerstyle collection in standard notation was arranged by John Zaradin. He is Europe's foremost player of classical Brazilian guitar music. His early training at the Royal College of Music and the Paris Conservatoire has combined with his deep involvement w/culture in So. America.
E.C. Was Here by Eric Clapton
Six of his hits fully transcribed:
Can't Find My Way Home ¥ Driftin' Blues ¥ Further On up the Road ¥ Have You Ever Loved a Woman ¥ Presence of the Lord ¥ Ramblin' on My Mind.
Eric Clapton by Eric Clapton
57 of his most popular songs, complete with a section with lead guitar arrangements, a bio, photos, and a family tree of Clapton's many bands. Revised to include his latest hits.
The Classic Songs and Solos
of Eric Clapton
Eight Best-Known Songs Recorded by the Legendary Guitarist: Arranged for Guitar Tablature With Chord Names and Full Lyrics
Eric Clapton: In His Own Words by Eric Clapton, Marc Roberty
A definitive guide to Clapton's recordings--from the Yardbirds to Cream to Clapton solo. This book contains information on unreleased songs, session documention as "fifth Beatle", known releases, Clapton's comments on individual sessions, and photos of rare memorabilia. Photos throughout.
Eric Clapton: Unplugged
by Eric Clapton
Matching folio to his best-selling acoustic album. 14 songs, including: Tears in Heaven ¥ Nobody Knows You When You're Down and Out ¥ Layla ¥ Alberta ¥ Old Love ¥ and more.
Eric Clapton: Reptile
by Eric Clapton
Note-for-note transcriptions with tab for 13 songs from Slowhand's 2001 release: Believe in Life ¥ Come Back Baby ¥ Don't Let Me Be Lonely Tonight ¥ Find Myself ¥ Got You on My Mind ¥ I Ain't Gonna Stand for It ¥ I Want a Little Girl ¥ Modern Girl ¥ Reptile ¥ Second Nature ¥ Son & Sylvia ¥ Superman Inside ¥ Travelin' Light.
461 Ocean Boulevard
by Eric Clapton (Author)
Matching folio to ClaptonÕs 1974 release including classic songs such as: Motherless Children, Willie And The Hand Jive, Get Ready, I Shot The Sheriff, Let It Grow and more... Classic, matching cover art.
Eric Clapton Crossroads
by Eric Clapton
23 songs from the third volume of this collector's edition album.
Clapton Chronicles: The Best of Eric Clapton by Eric Clapton
This terrific book includes 15Clapton classics in standard notation and tab, with lyrics and chord symbols. Features lots of great photos!
Riding With the King: by B.B. King and Eric Clapton
In this first-ever collaboration, Slowhand meets Lucille to jam on 12 tunes. Features note-for-note transcriptions of King classics, blues standards and new songs, including: Come Rain or Come Shine ¥ Days of Old ¥ Help the Poor ¥ Hold On I'm Coming ¥ I Wanna Be ¥ Key to the Highway ¥ Marry You ¥ Riding with the King ¥ Ten Long Years ¥ Three O'Clock Blues ¥ When My Heart Beats like a Hammer ¥ Worried Life Blues.
Eric Clapton Riff by Riff
by Dale Turner
The ultimate examination of his best riffs! Features guitar excerpts from 36 classic songs, from his years with The Yardbirds right up through his latest solo work.
The Best of Eric Clapton: Piano, Vocal, Guitar by Eric Clapton
A collection of 30 of his best, including: After Midnight ¥ Cocaine ¥ Crossroads ¥ I Can't Stand It ¥ I Shot the Sheriff ¥ Lay Down Sally ¥ Layla ¥ Sunshine of Your Love ¥ White Room ¥ Wonderful Tonight ¥ Tears in Heaven ¥ and more.
Eric Clapton: The Cream of Clapton by Eric Clapton
19 hits from his early years, including: Crossroads ¥ I Shot the Sheriff ¥ Knockin' on Heaven's Door ¥ Layla ¥ White Room ¥ Wonderful Tonight ¥ and more. Songs are in chronological order, with notes on each.