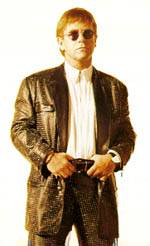 His incredible music career and his partnership with lyricist Bernie Taupin has given us literally tons of Number One hits. The talented duo has enjoyed one of the most rewarding and exciting songwriting partnerships in rock and roll history.
Elton John And Tim Rice's Aida (1999 Concept Album) [SOUNDTRACK]
Following hot on the heels of their enormously successful collaboration for The Lion King, Elton John and Tim Rice have once again culled their talents to create another Disney contemporary musical, based this time on Verdi's opera Aida. The album, recorded by some of the biggest talents of pop, country, and R&B, features songs from the stage show, which recounts the well-known tale of a love triangle further complicated by slavery, royalty, and the armed forces. --Paige La Grone
Made in England - Elton John
Made In England finds Elton John and Bernie Taupin at their very best. Bernie's moving and intelligent lyrics are beautifully showcased by Elton's versatile compositions.
Goodbye Yellow Brick Road (Remaster)[ORIGINAL RECORDING REMASTERED] - Elton John
Rarely mentioned as one of the great double albums, Goodbye Yellow Brick Road had to settle for ending up in a few million record collections. So sprawling that it doesn't quite measure up to the earlier, more laid-back Honky Chateau or the later, pushy Rock of the Westies, this still holds claim to a lot of brilliant, very pop-savvy music: the winking rebellion of "Bennie and the Jets" and "Saturday Night's Alright for Fighting," the ready-made nostalgia of "The Ballad of Danny Bailey," the downbeat melodicism of "Harmony." --Rickey Wright
Rock Of The Westies (Remaster) [ORIGINAL RECORDING REMASTERED] - Elton John
Although it was viewed as one of Elton John's more lightweight efforts upon its 1975 release--possibly because it followed only half a year after the acclaimed Captain Fantastic and the Brown Dirt Cowboy (and partially because many thought the album was released to fulfill a contractual obligation)--Rock of the Westies appears in retrospect to be his last great rock album. It certainly does rock consistently harder than any other John album, with guitarist Davey Johnstone even getting cowriting credits (with John and Bernie Taupin) on the opening "Medley: Yell Help/Wednesday" and "Grow Some Funk of Your Own." Lyricist Taupin seems to be going off the deep end here at times with titles like "Dan Dare (Pilot of the Future)" and "Billy Bone & the White Bird," but "Island Girl" was another huge hit for the pair. And the CD version adds the wonderful pop gem "Don't Go Breakin' My Heart," which turned KiKi Dee into an eternal Trivial Pursuit answer.
--Bill Holdship
Elton John [ORIGINAL RECORDING REMASTERED] Elton John
"Elton John" is the first album released in America and it is the first of the classic albums which Gus Dudgeon produced during the amazing period from 1970 to 1976 when Elton John was the world's most popular rock and roll musician. This album was also the first to feature the great orchestral arrangements of Paul Buckmaster. Without question, this is an essential Elton John recording. Taupin wrote some of his finest introspective lyrics.
The Muse: Original Motion Picture Soundtrack-Elton John
The soundtrack may only be 35 minutes long, but it takes the listener on a fulfilling journey, through pain, laughter, disappointment and exhilaration. Elton's melodies are strong, as always.
The One [ORIGINAL RECORDING REMASTERED] Elton John
Digit Remastered +bonus Track.
Elton John
Elton John - Biography
Elton John - Books
Songs from the West Coast Elton John
Rollingstone, October 11, 2001,

4 STARS "...its spirit and ambition have finally come back home."
Madman Across The Water (Remaster) - Elton John
Named for a cut that originally appeared on his Tumbleweed Connection album, Madman Across the Water yielded some of Elton John's earliest AOR staples. "Tiny Dancer," like the previous "Your Song," was introduced and carried by John's masterful piano composition. The song's sense of longing also employed the falsetto chorus that would become as much of a trademark as his costumes. "Levon," another entry into the John/Taupin "ballad of" category, is one of their finest pieces. The orchestration gives the song not only its sense of foreboding, but also its release of tension as the song ends. "Rotten Peaches" became a favorite, as did "Holiday Inn." There's also a different interpretation of the title track than appeared on Tumbleweed Connection.
--Steve Gdula
One Night Only [LIVE]
Elton John
In typically splashy style, Elton John rushed One Night Only, a document of his two-night Madison Square Garden stand, into release just weeks after the October 2000 shows. Basically a rundown of 30 years of chart hits smoothly played (if occasionally roughly sung), the disc is a solid buy for the Elton John fanatic. Others will have to decide if a plethora of guest stars--Mary J. Blige, Bryan Adams, Kiki Dee, Ronan Keating, and Anastacia --warrants owning new versions of old warhorses. Even without the sense of Event surrounding the performances, though, One Night Only satisfyingly captures the thrill of EJ's recent sets. --Rickey Wright
Captain Fantastic And The Brown Dirt Cowboy [ORIGINAL RECORDING REMASTERED] - Elton John
Elton John has always liked having it both ways. He's flamboyant and vain, yet empathetic and sincere. He sits at his piano playing sentimental melodies, but the words come not from inside his soul but from friend Bernie Taupin. For Captain Fantastic, he and Taupin wrote a concept album which sketches their career together. "Someone Saved My Life Tonight" is easily the strongest song outside of the concept. The addition of several songs "Lucy in the Sky with Diamonds" featuring John Lennon, "Philadelphia Freedom," and "One Day at a Time" blow the concept but up the entertainment value considerably. --Rob O'Connor
Don't Shoot Me I'm Only
The Piano Player
[ORIGINAL RECORDING REMASTERED] - Elton John
This album still holds up well over a quarter of a century after its release. Even casual fans will recognize "Daniel," "Elderberry Wine," and "Crocodile Rock," but "Teacher I Need You," "Have Mercy on the Criminal" and "I'm Going to Be a Teenage Idol" are equally good. Elton's backing band at the time (guitarist Davey Johnstone, bassist Dee Murray, and drummer Nigel Olsson) was easily his best, and producer Gus Dudgeon and orchestral arranger Paul Buckmaster bathed the tracks in a warm and enticing glow. The only complaint is that, due to its size, the CD reissue doesn't remotely do justice to the colorful packaging of the original album. --Dan Epstein
Honky Chateau [ORIGINAL RECORDING REMASTERED] Elton John
By 1972, Elton John was already a rising star in America, although most casual listeners still identified him as part of the singer/songwriter explosion, thanks to the success of "Your Song" and "Levon." Honky Château changed all that, beginning with the success of "Honky Cat," a rousing New Orleans-ish R&B powerhouse that kicks off this terrific collection of songs. This was the album that first revealed John as a pure-pop craftsman, and he's all over the musical map on this set, moving from country-ish rock to blues-based rockers. But the best things here still might be two gorgeous ballads: "Mona Lisas & Mad Hatters" (displaying the young vocalist at his best) and the hit single "Rocket Man" (which had many rock fans debating which was the better space odyssey of the day--this or Bowie's). And lyricist Bernie Taupin was revealing a new, slightly darker side here via tunes like "I Think I'm Gonna Kill Myself." --Bill Holdship
Greatest Hits 1970-2002
Elton John
This is the first attempt to consolidate all of Sir Elton's hit singles, from three labels, in one collection. It once would've required at least four CDs to own the best stuff here.
Greatest Hits 1976-1986
Elton John
Greatest Hits, Vol. 2
Elton John
Elton John's second volume of hits covers the incredibly fertile hitmaking period from late 1974 to early 1976, with a step or two outside that era. Some of his very greatest pop creations are here: "Philadelphia Freedom," "The Bitch Is Back," the giddy John Lennon-abetted cover of "Lucy in the Sky with Diamonds," "Levon." If you love him, no doubt many of these songs are among the reasons. --Rickey Wright
Greatest Hits - Elton John
Digitally remastered reissue of his 1974 'Hits' collection on a 24 karat gold CD from DCC. Featuring every one of his Top 10 singles recorded up to that point, 'Your Song', 'Rocket Man', 'Honky Cat', 'Crocodile Rock', 'Daniel', 'Goodbye Yellow Brick Road', 'Bennie and the Jets', 'Don't Let the Sun Go Down on Me' plus three more tracks.
Love Songs - Elton John
This 1996 Love Songs collection consists of 15 of Elton John's biggest love ballads.
The Big Picture
- Elton John
Australian Exclusive Tour Edition. Features a Limited Edition Slipcase.
21 At 33 - Elton John
The first of Elton great albums in 80's
"21 At 33" features the Elton we love. He's able to blend his brand of pop music with reggae, country and techno. This album is significant because it is theTaupin's first album with John since "Blue Moves" in 1976.
Tumbleweed Connection [ORIGINAL RECORDING REMASTERED] - Elton John
Tumbleweed Connection is part of the early catalog of Elton John's work that Guns N' Roses singer Axl Rose reportedly once said he would love to own the publishing rights to as a work of art. Indeed, it does contain some of John's most expressive work as an artist, but with the showy stage presence and pop melodicism still under construction. Tumbleweed is characterized by John's balladeer approach, with John at his storyteller best on songs like "Burn Down the Mission." Even if the lyrics were generally written by Bernie Taupin, John's voice and inflection made every song seem deeply personal. The beautiful "Come Down in Time" displays the subtleties and sophistication of his talent, with the piano not yet serving as the instrumental focal point it would later become. The album also features the favorite "Ballad of a Well-Known Gun"and "Where to NowSt./Peter?" --Steve Gdula
Road to El Dorado [SOUNDTRACK] Elton John
Apparently, if you ask Elton John to provide songs for the soundtrack to your movie, you'll get more than you bargained for. In this case, much more. Only 5 of the 11 tracks are used in this animated film about 2 swindlers searching for gold in 16th-century Spain, meaning 6 bonus cuts are featured here. John again collaborated with lyricist Tim Rice, who worked on last year's Aida and 1994's Lion King. There are the trademark piano ballads ("Friends Never Say Goodbye," "Queen of Cities") and uptempo piano rockers ("16th Century Man"), but many of the tracks feature island rhythms and some unusually futuristic effects ("Trust Me"). One particular highlight is a humorous duet with Randy Newman on "It's Tough to Be a God." Three additional cuts from the movie's score by Hans Zimmer and John Powell finish the album with cinematic flair. --Rob O'Connor