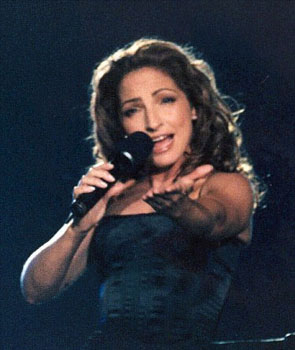 One of the most adored and inspiring performers in all of music history!
Greatest Hits Gloria Estefan
"The rhythm is gonna get you" is the tag line of one of Gloria Estefan's biggest hits, but it could also serve as the mantra for the Cuban-born singer's road to the top of the charts. Estefan's forte is middle-of-the-road pop, but all of her upbeat hits are fueled by driving Latin percussion, the feature that set Estefan's music apart from the rest of the flyaway pop of the 1980s and early '90s. Greatest Hits intersperses those great dance hits--"Conga," "1,2,3," "Get on Your Feet," and, of course, "Rhythm Is Gonna Get You," with sweet ballads such as "Words Get in the Way," "Anything for You," and "Don't Wanna Lose You." This set also includes "Coming Out of the Dark," Estefan's triumphant comeback hit following her 1990 career-threatening tour-bus accident. --Daniel Durchholz
Christmas Through Your Eyes Gloria Estefan
Gloria Estefan always sings with passion and energy, and her holiday performances here, while not musically dynamic, still prove strong and fiery. There are some delicious moments of pure music making here that transcend category and homogenization.
Abriendo Puertas
Gloria Estefan
After re-establishing her Latin identity with Mi Tierra, her tribute to Afro-Cuban music, Cuban American singer Gloria Estefan made yet another surprising move, this time exploring the music of Latin America, mostly Colombia.
Gloria Estefan
Gloria Estefan Books
Gloria Estefan Gallery
Gloria! - Gloria Estefan
It was a bit of a risky move for Gloria to release Gloria!, an album of pure, unadulterated disco that sounds as if it could have been recorded two decades earlier. The risk paid off, though, because the album turned out to be one of her best--a nonstop dance party that keeps cooking through beat-heavy thumpers such as "Heaven's What I Feel," "Oye," and "I Just Wanna Be Happy"--the latter two bring in some of the Latin elements of her Miami Sound Machine days.
Destiny [ECD] Gloria Estefan
Real Latin music at its best
This album has everything, including great dance numbers.
Hold Me, Thrill Me, Kiss Me
Gloria Estefan
Great covers of classic songs
If you are a fan of Gloria, or of 50's, 60's, and 70's hits, you will enjoy this album.
Alma Caribeña
Gloria Estefan
Gloria Estefan's third Spanish language album, Alma Caribena ("Caribbean Soul"), provides proof that Cuban music is where this household name does her most impressive work.
Exitos De Gloria Estefan
"Exitos" is THE ultimate Gloria Estefan CD. The listener will really learn about Estefan's wide variety of music.
Greatest Hits, Vol. 2
Gloria Estefan
Gloria has a one-of-a-kind voice and great style--she's a surefire talent--and her music is still fabulous in her native language (check out Mi Tierra or Abriendo Puertas). But if you're looking for a real sampler of her greatest hits, the first volume, released in 1992, is still the way to go.
Mi Tierra Gloria Estefan
Cuban American singer Gloria Estefan was a mainstream pop balladeer and dance music queen who happened to be Latina before taking a surprising turn in Mi Tierra and reclaiming her roots. Singing in Spanish, impeccably produced and backed by a superb ensemble that includes 79-year-old maestro Israel Lopez "Cachao" on bass (he is only the creator of mambo itself),arranger Juanito Marquez, and singer and percussionst Luis Enrique, Estefan delivers worthy reinterpretations and updates of traditional Afro Cuban styles. It might be too smooth for traditionalists--who may also object to Gloria's delivery, not that of classic sonera,but as an introduction to the music, it is engaging and the playing of the ensemble is true and impeccable. --Fernando Gonzalez
Into the Light
Gloria Estefan
An uplifting comeback, album after her 1990 accident.
Cuts Both Ways
Gloria Estefan
Cuts Both Ways is definitely the dividing line between Miami Sound Machine's Latin party-style, which at times sounded kind of immature and the so-called Gloria Estefan's real, mature solo career.