Australian Wineries

Some Australian wineries are huge, and produce wine in large quantities, to be shipped all over the world. But there are more than 5,000 boutique wineries scattered around the nation, most of which offer cellar door tastings. Many also house cafes and restaurants serving gourmet food, often with an emphasis on local produce.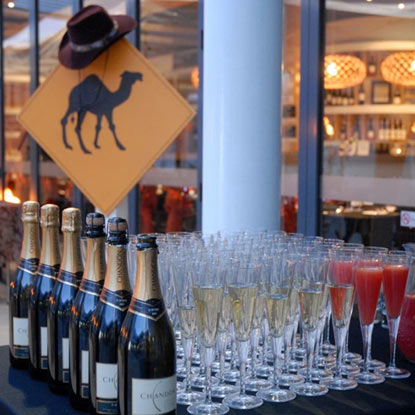 There are 19 wine regions in New South Wales, including Australia's oldest continuous wine region - the famous Hunter Valley. Other areas include Mudgee, which has a winemaking history stretching back to the 1858; and exciting new cool-climate regions such as the Southern Highlands, an hour's drive south of Sydney.
The Hunter Valley is an easy two-hour drive north of Sydney, and offers more than 120 cellar doors. The area produces a range of wine styles, though it's mostly known for its high-quality Semillon and Shiraz. Like other wine-producing areas in Australia, local wine production is complemented by the likes of olive oil producers and artisan cheese makers.
Further north, visit one of Australia's most unique cellar doors, at the Little Morgue Winery on Queensland's Sunshine Coast. Originally a morgue, this boutique winery was transformed into a cellar door in 2006. The morgue's chapel is now a two-storey cellar door, where guests can taste a wide variety of aptly-named wines including 'A Touch 'O Coffin', 'Rest in Peace' and 'Dead Smooth'.
For an interesting variation on traditional wine making head to Golden Pride Wineries, one hour inland from Cairns in Tropical North Queensland. The Natasi family makes their Golden Drop wine out of mangoes! The property has 17,500 trees, making it one of the largest mango plantations in Australia.

They don't grow mangoes further south in Victoria, but they do grow strawberries. Schmidts Strawberry Winery, near the charming former gold mining township of Yackandandah in historic North East Victoria, produces exceptional strawberry wines amidst acres of lush strawberry fields.
At Brown Brothers Winery in nearby Milawa, visitors to the cellar door and restaurant are being treated to unique produce from the Kindergarten, Brown Brothers' research and development division.
The Kindergarten is essentially a mini-winery within the larger winery. Established in 1989 as part of the winery's centenary celebrations, the Kindergarten attracts guest winemakers from around the world. These experts trial small batches of wine using unusual grapes such as Barbera, Dolcetto, Moscato and Tarrango.
Visitors are an essential element of the company's market research, as they are encouraged to try the new wine styles and give their feedback. The Brown Brothers cellar door and restaurant are positioned on the main road to the Victorian ski fields.
North East Victoria is also the place to enjoy Pedal to Produce, a set of new food and wine tours that incorporate the best of the High Country's historic towns, stunning alpine and valley scenery, and even a converted former railway track.
New on the Victorian scene too is the Bellarine Taste Trail, south of Melbourne on the Bellarine Peninsula. This comprises 32 operators including local food producers, provedores, restaurants, wineries, seafood producers, and accommodation. The Bellarine Peninsula is also known for its historic seaside villages, beautiful beaches, and national parks.
You can find some of the most famous wine regions in the world dotted across South Australia. There are nine distinct wine regions within an hour and a half of the Adelaide city centre. These include the famous Barossa Valley, the Clare Valley, the Adelaide Hills, and McLaren Vale.
Located in the heart of the Barossa Valley is perhaps Australia's most revered wine producer – Penfolds. This iconic Australian winery is famed for Penfolds Grange, one of the world's finest wines. It's also known as Australia's most expensive wine. Bottles of certain vintages cost many thousands of dollars.
Penfolds Barossa Valley Winery and Cellar Door offers an interactive twist to winemaking with its Make Your Own Blend Tour. Visitors dress up in white coats and attempt to blend their own wine from Grenache, Shiraz and Mourvedre grapes. You can take your creation home with you, complete with a personalised label.
Another big wine producing state is Western Australia. If your idea of the perfect escape is sipping world-class wine, whilst enjoying breath-taking views of vineyards, beaches and forests, then the Margaret River Wine Region is the place for you. Located three hours drive from Perth, the area produces some 26 per cent of Australia's premium wine, yet only about five per cent of the total wine production.

Don't forget Tasmania either. The island state has four main wine regions. Wines made here are made from grapes grown in climates similar to those of the famous European wines – with mild summers and long autumn days that slowly ripen the grapes.

Following the Wine Trail - Wines from Australia regularly win major international awards. The latest example is the Nepenthe Ithaca Chardonnay, produced by Australian Vintage. It was judged the Best Chardonnay in the World at the 2009 Decanter World Wine Awards in London. This is the world's biggest wine competition. Click here for more...