Great Ocean Road: The Twelve Apostles

An unforgettable highlight of the Australian Great Ocean Road is the rock formations known as the Twelve Apostles.

These 20 million year old limestone towers rise dramatically out of the sea but after being pounded for centuries by the raging Southern Ocean there are now only eight standing. These photogenic rock stars are huddled together and can easily be viewed from one of the many platforms along the cliff tops. The colours are particularly spectacular at sunrise and sunset. Other striking natural features in the area include the Loch Ard Gorge and the Blowhole.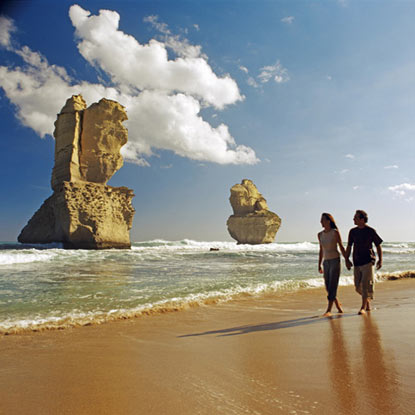 Whales and shipwrecks define the history of the next section of the road to Portland. The historic coastal towns of Warrnambool, Port Fairy and Portland offer a taste of seafaring life, with their fishing wharves, beautifully preserved colonial buildings and maritime museums recounting the stories of ships that have foundered off the rugged shipwreck coast.
It is here that every year rare Southern Right Whales come to breed, so named by early whalers because their slow speed made them the 'right' whales to catch. Each corner turned on the Great Ocean Road delivers another even more spectacular combination of cliffs, islands and battering sea, each scene demanding a stop before the long and winding road reaches its destiny.
English travel magazine Conde Nast Traveller voted a drive along the Great Ocean Road as one of the Top 20 Journeys of a Lifetime, not just because of the magnificent scenery, but because the judges were seduced by the range and quality of food available en-route.
It's possible to visit the Great Ocean Road as a day trip from Melbourne, but a better experience by far is had by those who take time to savour the landscapes, communities, habitats and wildlife, watching nature's drama unfold at every turn.