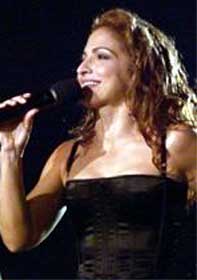 Is there anyone who has not been inspired by her story?
She dominated the charts with her spicy pop in the '80s and '90s.
After rising to national stardom with Miami Sound Machine, a tragic bus accident almost ended her career just as she had established herself as a solo performer of rare charisma and energy. Not only did Gloria recover from her accident, but she returned with a passion that touched a wider audience than ever before. Her music is the most powerful testimony to her remarkable spirit.
Gloria Estefan: The Evolution Tour Live in Miami (1996) DVD
Glorious Gloria! She really knows how to define a live performance.
Gloria Estefan - Everlasting Gloria (1995) DVD
Don't miss this one!
If you like Gloria Estefan's music, you should also enjoy this unique video collection.
Gloria Estefan and Miami Sound Machine - Evolution (1990) VHS
A must have for any Gloria fan!
Gloria Estefan Music
Gloria Estefan Books
Gloria Estefan Gallery
Gloria Estefan -
Que Siga la Tradicion
(2000) DVD
Que Siga la Tradicion invites you to take a journey with Gloria Estefan back to her roots where the sounds infuse the soul. It is a selection of Gloria's greatest Latin hits from the Grammy Award-winning albums Mi Tierra, Abriendo Puertas, and her new release Alma Caribeña, featuring such songs as "Oye," "Mi Tierra," and "Por un Beso." Plus bonus documentary and interview footage. 73 minutes.
Gloria Estefan: Coming
out of the Dark
(1990) VHS
Designed as a companion to the singer's 1991 Into The Light--World Tour concert video, this look behind the scenes in Gloria Estefan's career draws drama and urgency from her recovery following a disastrous bus accident, which crippled the Cuban- -American performer even as her popularity pushed further into the pop mainstream. --Sam Sutherland
Gloria Estefan: Into the
Light World Tour
(1992) VHS
Captured during a two-night stand at a Dutch arena, this 100-minute concert special documents Gloria Estefan's lavish 1991 world tour, which underscored the Cuban- American singer's graduation from acclaim as a dance-floor diva to the ranks of female pop superstars.
Gloria Estefan -
Live in Atlantis
(2000) DVD
Shot at the Atlantis hotel in the Bahamas, Gloria Estefan's Live in Atlantis features the hits "Coming Out of the Dark," "Oye," and "Mi Tierra." The DVD also contains medleys of such hits as "Conga/1-2-3/Get on Your Feet/Rhythm Is Gonna Get You" and songs from the Grammy Award-winning CD Alma Caribena," featuring performances by Celia Cruz, Marc Anthony, and Jose Feliciano. Also included are Gloria's bio, discography, and a photo gallery.
Gloria Estefan:
Don't Stop!
(1998) DVD
This musical content is magical as Gloria takes you through her journey as a dance diva with 12 of her greatest and latest videos including "Oye" "Heavens what I feel" "Don't Stop" "Turn the beat around" "You'll be Mine (Party time)" "I'm not giving you up" "Higher" "Everlasting Love" all ranging from the years 94-98 ( 5 are taken from her already multi platinum release "Gloria!").
Gloria Estefan and
Miami Sound Machine: Homecoming Concert
(1989) VHS
This is the video of the concert tour for her album "Let it Loose." It's a great mix of her work from the first 3 English albums.