Carrot Dip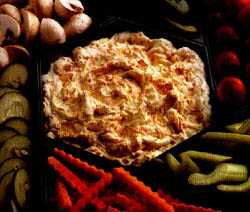 Ingredients:
1 package cream cheese (8 oz. or 240 g); softened
2/3 cup finely shredded fresh carrot
2 tablespoons sour cream
1 teaspoon finely chopped fresh parsley
dash of garlic and onion powder
salt, and ground pepper to taste

Preparation:

Combine all ingredients and process or mix until smooth.
Place in serving bowl, cover and refrigerate at least 1 hour.
Serve with assorted fresh vegetables or crackers.

Recipes for Dips:




Parsley
Parsley (Petroselinum crispum & Petroselinum neapolitanum) is a member of the parsley or carrot family, Apiaceae. Parsley is a bright green, biennial herb that is very common in Middle Eastern, European, and American cooking. Parsley's value as a breath-freshener, and much of its taste, come from its high concentration of chlorophyll.

Two forms of parsley are used as herbs: curly leaf and Italian or flat leaf. Curly leaf parsley is often used as a garnish. Many people think flat leaf parsley has a stronger flavor. Another type of parsley is grown for its edible root.