POKEMON GAMES
Browse our selection of best Pokemon fun, and turn the Pokemon obsession into a simple but challenging memory-testing game, one that a Pokemon-crazy child of five can understand, but also one that a Pokemon challenged granny can enjoy.

Featured Games:
Pokemon XD Gale of Darkness Game Cube

Pokemon XD: Gale of Darkness brings you an all-new RPG in the expansive setting of Orre, where the Shadow Pokemon live. Darkness has fallen over this strange land, now that a legendary Pokemon called Lugia has been turned. Shadow Lugia is very powerful and can't be purified - exactly what the evil group called Cipher needs. They use Shadow Lugia to steal a cargo ship full of Shadow Pokemon. Now it's up to you and Eevee to Snag and Purify them all before it's too late. During your journey you will be helped by numerous friends, and fight against even more foes as you race against time to secure the safety of those Pokemon!

Pokemon Trozei - Nintendo DS

Pokémon Trozei is a fun and unique new puzzle game for the Nintendo DS -- one that stars some of your favorite Pokemon characters! Using the stylus, slide Pokémon puzzle pieces and line up four in a row (horizontally or vertically) to make a "Trozei" and clear the screen.

Pokemon Emerald Version Game Boy Advance

Pokemon Emerald is an extension of Pokemon Ruby and Pokemon Sapphire -- you'll travel to an all-new region and explore as you face off against Team Aqua and Team Magma. An aspiring Pokemon trainer moves to tiny Littleroot Town and discovers all-new Pokemon to train and compete with -- now he's on the road to being a great trainer!

Pokemon Fire Red Version Game Boy Advance

Pokemon Fire Red lets you return to the world of Kanto originally explored in Pokémon Red and Pokémon Blue, where the adventure is brought to life better than ever with dazzling GBA graphics and dozens of surprising new features. As other wireless Trainers come within reach of your adapter's range, you'll be able to communicate & play games together.

Pokemon Ruby Game Boy Advance

If you're just starting out with Pokémon, the object of the game is to explore the world and to capture and tame wild Pokémon (pocket monsters) through battle with your trained Pokémon. Winners are rewarded with badges, and the experience gained in battle makes their Pokémon stronger. The series has been a huge hit for the Game Boy Color, and Pokémon Ruby and Pokémon Sapphire mark the series' entrance to the Game Boy Advance platform.

Game Boy Advance SP Pearl Blue

The GBA SP is as small as a PDA and more portable than the original GBA. Take your portable gaming to the next dimension with this futuristic new game system! Color - Pearl Blue. This incredible redesign features a fantastic flip-screen; Unopened, the unit fits easily in your pocket. Powered by a rechargeable Lithium-Ion Battery that provides 18 hours of play with the light off(up to 10 hours with the light on)

Game Boy Micro Silver Game Boy Advance

The Game Boy Micro is a leap forward in portable gaming. In this tiny, cell-phone sized body you have the same technology that powers the popular Game Boy Advance SP. Shorter, thinner and lighter than an SP, it plays all the SP titles on the market. No more need to buy special game cases -- just shove it in your pocket or the cell phone pocket in your backpack when you're done. If you'd like the look of your system to be as cool as thegames you play on it, the new Game Boy Micro is for you. Supports standard headphones Dimensions(WxLxD) - 4 x 2 x 7/10
Color - Silver

[Pokemon Video Games] [Posters] [Apparel] [Pokemon Miscellaneous]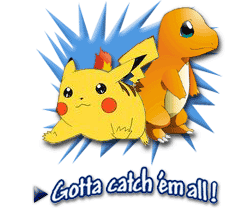 Game Guides
Official Nintendo Pokémon XD: Gale of Darkness Player's Guide by Nintendo Power
The only Official guide from the insiders at Nintendo. Complete strategy for the Nintendo GameCube game - Pokémon XD: Gale of Darkness Step Out of the Shadows! The criminal organization Cipher is using Shadow Pokémon to threaten the peace of Orre, and it's up to you to stop them! Complete Maps - You can never get lost with full-color, 3-D maps detailing every important location in Orre. PLUS! Complete Mt. Battle Trainer Info! From tips for snagging Shadow Pokémon to surefire battle strategies, the Official Nintendo Player's Guide has everything you need to thwart their evil plans!
*
Pokemon Ruby & Sapphire: Prima's Official Strategy Guide
Defeat Team Aqua and Team Magma!
Tips for winning the Pokémon Contests; Locations to all Secret Bases and Battle Towers; Thorough Pokédex, featuring Ruby and Sapphire Pokémon, with locations, statistics, and skills; Strategy to win all 2-on-2 battles and beat all enemy Pokémon Trainers; Walkthrough of the vast new Pokémon world, including all cities, towns, streets, and dungeons and more... Order Now!!!
*
Official Nintendo Pokémon Emerald Player's Guide
by Nintendo Power
What's a Pokémon trainer to do when Team Magma vies with Team Aqua to take over Hoenn? Pick up the Official Nintendo Player's Guide for Pokémon Emerald. It's a complete Trainer's Manual and Field Guide in one. Full-Color Maps: Navigate the cities and routes of Hoenn! Battle Strategies: Defeat every Gym Leader and become the champion of the new Battle Frontier! Complete strategy for the Game Boy Advance games ~ Pokémon Emerald Version
Pokemon Guides