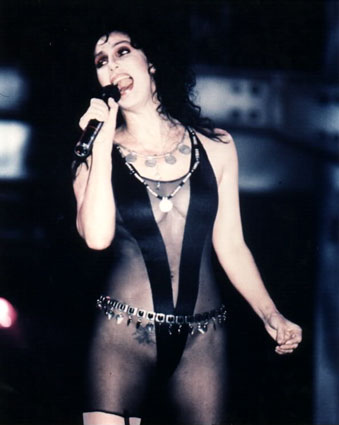 Cher's recording career has long taken a back seat to her acting pursuits, but with Believe she's back with a vengeance as a throbbing disco diva.
As a singer, Cher's a terrific actress. With her suspect pitch and piercing tone, she gives the impression that she couldn't carry a tune if it were tattooed to her butt. Still, she's revived her musical career almost as often as Sinatra did his, scoring 18 Top 10 hits since her mid-'60s days with Sonny Bono.
The retrospective If I Could Turn Back Time arrives in the wake of Cher's No. 1 single "Believe." True to its title, it walks through her early-'90s to late-'80s power-ballad period ("Just Like Jesse James," "We All Sleep Alone") to her 1979 disco hit "Take Me Home," the tragicomic concoctions "Half Breed" and "Gypsys, Tramps, & Thieves" and, finally, the original "I Got You Babe." One almost dreads asking: Can a box set be far behind?

--Rickey Wright
If I Could Turn Back Time - Cher
Cher's greatest hits before "Believe"
Greatest Hits
[IMPORT] Cher
Import-only hits collection spanning her entire career, from the '60s with late ex-husband Sonny Bono to 1998's smash 'Believe' & all points in between! 19 tracks total, also including 'The Shoop Shoop Song (It's In His Kiss)', 'If I Could Turn Back Time', 'Gypsies, Tramps & Thieves', 'Bang Bang', 'Walking In Memphis', 'I Got You Babe', 'The Beat Goes On', and 'Dov'e L'Amore' (Emilio Estefan Jnr.Mix) 1999 release.
Half Breed - Cher
If you like her 70's work, you owe it to yourself to get this one,a rare find.
Behind the Door:
1964-1974 Cher
Exclusive Australian album release, subtitled, 'Overlooked Gems & Missed Moments From Her First Decade Of Recording'. Featuring 25 tracks, with songs written by Bob Dylan, Tim Hardin, Ray Davies, Bacharach & David, Leon Russell, Sonny Bono & others. Standard jewel case. 2000 release.
Cher Movies
Cher Books
Cher Gallery
Sonny & Cher
Living Proof - Cher
Cher's first album since 1998's quadruple platinum Believe and its platinum #1 title track, the pop, dance-friendly 'Living Proof' features the Diane Warren-penned 'When You Walk Away' - unavailable on the European version (replaces 'You Take It All'). Produced by the likes of Chicane, Rick Nowells and Norwegian production team Stargate, 'Living Proof' impressively captures Cher at her seductive dancefloor best. Warner Brothers Records.
Holdin Out for Love
[IMPORT] Cher
Budget Collection of Cher Tracks Taken from her Intervening Rock Years Circa 'the Casablanca Era'. All the Tracks of the Album 'prisoner' Are Here, Though Not in their Original Running Order, Along with Other Tracks She Cut at the Time.
Love Hurts
- Cher
The best female power-ballad singer on the best of the rock albums
Heart of Stone - Cher
A mix of a little of everything on this album, from rock, to tender ballads.
Cher [Geffen]
After a string of albums that unfairly were overlooked by the mainstream (albums like Stars, Black Rose and I Paralyze especially), Cher signed to Geffen in 1987 and recorded a rock album that finally got people to take notice.
Bittersweet: The Love Songs Collection Cher
Cher is a fine singer who knows how to interpret a song with her own unique vocal style. For anyone who is a true Cher fan, you MUST have this in your collection.
Greatest Hits [MCA] Cher
"Part of my mother is very much the insider. The other part is the outsider. But I never worry about her. She's survivor and a fighter. Whatever she wants to do, she'll find a way to do it." --Chastity Bono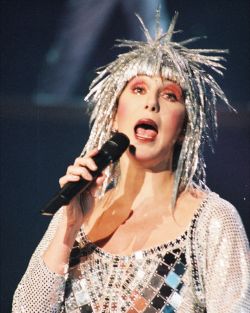 Believe - Cher
Believe is erratic (and sometimes cheesy) as hell, but you gotta love how her Cher-ness shines. A tour de force that summons mid-'70s images of strobe-lighted dance floors, sequined miniskirts, and writhing bodies.
It's a Man's World - Cher [IMPORT]
This album is one of her best! Cher's greatest vocal effort on one of her most underrated albums.
The UK version (this one) is worth owning.
20th Century Masters - The Millennium Collection: The Best of Cher [ORIGINAL RECORDING REMASTERED] - Cher
From the tambourine storytelling chimes of "Gypsies, Tramps, & Thieves" to the emotional coupling of "All I Ever Need Is You"--a duet with Sonny Bono, this is a sexy, soulful, fun compilation.
I Paralyze - Cher
Cher fans who dig her late-'80s power-ballad phase might like I Paralyze, an early stab at the genre.
Essential Collection - Cher
A Very Good overview of Cher's career 1965-1985.
Gypsys Tramps & Thieves Cher
This album contains Cher's most famous song, the title track "Gypsys, Tramps, and Thieves," as well as the huge hit "The Way of Love."