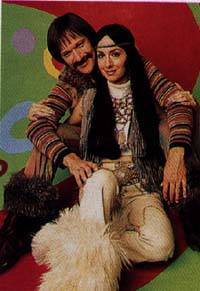 Few acts define the mid-'60s as perfectly as Sonny & Cher. Trading shamelessly on a store-bought hippy image, they projected themselves as pop's first Happy Couple and for about 18 months from late 1965 were ever present in singles charts on both sides
of the Atlantic.
Cher Music
Cher Movies
Cher Books
Cher Gallery
Greatest Hits [1974]
Sonny & Cher
This collection is a snapshot of their first comeback in the early 70s showcasing their recordings for the Kapp, then MCA, labels.
The Singles + [IMPORT] Sonny & Cher
Dutch compilation featuring all their Billboard hits as well as a number of solo hits for Sonny and Cher. All original recordings.
Look at Us
Sonny & Cher
This is Sonny & Cher's First Album!
Features the original artwork, new liner notes & 3 bonus tracks: 'It's The Little Things', 'Don't Talk To Strangers' & 'Hello'. Originally released on Atco in 1965, it now features a total of 15 tracks, also including their #1 smash 'I Got You Babe', plus the hits 'Just You' & 'The Letter'. 1998 Sundazed release.
In Case You're in Love Sonny & Cher
CD debut of the couple's second album, first released in 1966 on Atco. Features the original artwork, new liner notes & three bonus tracks: Sonny's solo hit 'The Revolution Kind', plus the top 50 'Have I Stayed Too Long' & the previously unreleased 'Crying Time'. 15 tracks total, also featuring the top 10 'Laugh At Me' & the top 20 'But You're Mine'. 1998 Sundazed release. The full title is 'The Wondrous World Of Sonny And Cher'.
Wonderous World of
Sonny & Cher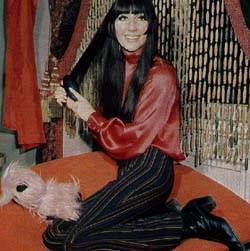 Beat Goes On-Best of Sonny & Cher
Sonny Bono was a record-biz vet by the time he hooked up with a teenaged female singer named Cher. After a 1963 flop under the name Caesar and Cleo, the pair clicked with "I Got You Babe," a leap onto the folk-rock bandwagon that made them America's favorite pseudohippies for a brief moment. Cher's less-than-dulcet tones never sounded better than when placed next to Sonny's nasal croak. As for Sonny himself, his solo protest work--including "Laugh at Me," later covered by Mott the Hoople--is excerpted here. There are no words. --Rickey Wright
All I Ever Need Is You Sonny & Cher
Good Times
Sonny & Cher