Gros Morne National Park - Gros Morne National Park of Canada was designated a UNESCO World Heritage Site in 1987. It is an area of great natural beauty with a rich variety of scenery, wildlife, and recreational activities. Visitors can hike through wild, uninhabited mountains and camp by the sea. Boat tours bring visitors under the towering cliffs of a freshwater fjord carved out by glaciers. Waterfalls, marine inlets, sea stacks, sandy beaches, and colourful nearby fishing villages complete the phenomenal natural and cultural surroundings of Gros Morne National Park of Canada.


Terra Nova National Park - Terra Nova National Park of Canada is a place where long fingers of the North Atlantic Ocean touch the island boreal forest of Eastern Newfoundland. Rocky headlands provide shelter from the awesome power of the open ocean. The landscape of the park varies from the rugged cliffs and sheltered inlets of the coastal region to the rolling forested hills, bogs and ponds of the inland. Cultural history abounds in the remnants of sawmills and past human cultures.


Torngat Mountains National Park of Canada

- From the Inuktitut word Torngait , meaning "place of spirits", the Torngat Mountains have been home to Inuit and their predecessors for thousands of years. The spectacular wilderness of this National Park comprises 9,700 km2 of the Northern Labrador Mountains natural region. The park extends from Saglek Fjord in the south, including all islands and islets, to the very northern tip of Labrador; and from the provincial boundary with Quebec in the west, to the iceberg-choked waters of the Labrador Sea in the east. The mountain peaks along the border with Quebec are the highest in mainland Canada east of the Rockies, and are dotted with remnant glaciers. Polar bears hunt seals along the coast, and both the Torngat Mountains and George River caribou herds cross paths as they migrate to and from their calving grounds. Today, Inuit continue to use this area for hunting, fishing, and travelling throughout the year.

Newfoundland & Labrador Parks & Natural Areas - The variety of natural environments in this province is spectacular. They span everything from Newfoundland's rugged south coast, maritime barrens, and the Tablelands of Gros Morne, to the windy peaks of the Torngat Mountains and the sub-Arctic tundra of northern Labrador.

Parks & Natural Areas Newfoundland & Labrador (pdf publication) - Thanks to the foresight of those who worked towards the creation of Provincial Parks and Reserves in Newfoundland & Labrador, you can enjoy their many benefits.


Newfoundland-Labrador Parks - Our national and provincial parks preserve some of the province's – and the country's – most spectacular natural resources: fjords, lakes, mountains, rivers, beaches, forests, coastlines, marshes, and the creatures and plants that live there in all their diversity. Bald eagles, moose, polar bears, and environments like alpine meadows, sub-arctic tundra and river valleys are here for all to enjoy. Because parks are for people.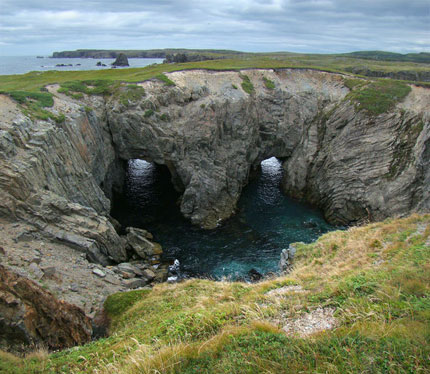 Image: Dungeon Provincial Park, Bonavista Peninsula, Eastern Newfoundland, Canada.
(Author Tango 7174 - GNU_Free_Documentation_License)