Riding Mountain National Park - Situated amidst a sea of agricultural land, Riding Mountain rises dramatically from the prairie landscape. Forming part of the Manitoba Escarpment, this "island" reserve protects a wide variety of wildlife and vegetation areas. The park has numerous hiking trails, and Agassiz Tower overlooks a panoramic view of prairies stretching out to the north. Wasagaming, the park's townsite, offers a full range of visitor services including accommodation, restaurants and shopping.

Wapusk National Park - Wapusk means "White Bear" in Cree. The park earns its name because it protects one of the world's largest known polar bear maternity denning areas. It represents the Hudson James Lowlands natural region bordering on Hudson Bay. The park lies on the transition between boreal forest and Arctic tundra. The geology, biodiversity, and cultural history of the area all contribute to the unique wilderness character of Wapusk National Park of Canada.

Manitoba Parks Guide - Manitoba's parks offer a wide range of services and facilities for your year-round enjoyment. No matter what recreational activities you pursue, you are sure to enjoy spectacular natural environments, unique cultural sites, sandy beaches and clear waters. When you are ready to experience everything under the sun, come to Manitoba parks.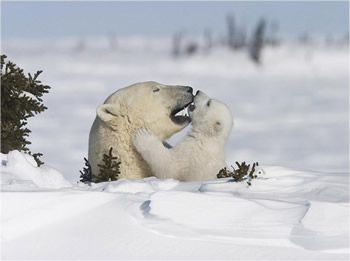 Polar Bear and cub in Wapusk National Park © Parks Canada

Canada's Wapusk National Park - Polar Bears & So Much More - Canada's Wapusk National Park on the shores of Hudson's Bay in the north-eastern corner of Manitoba is remote and access is available only through a handful of approved commercial tour operators. The effort involved in getting there pales in comparison to the thrill of watching polar bear mothers wrestle with their cubs in the snow just metres from your big-wheeled Tundra Buggy.