Prince Edward Island has a reputation as a province of outstanding natural beauty. The coastline consists of a combination of long beaches, dunes, red sandstone cliffs, salt water marshes and numerous bays and harbours. The beaches, dunes and sandstone cliffs consist of sedimentary rock and other material with a high iron concentration which oxidises upon exposure to the air. The geological properties of a white silica sand found at Basin Head are unique in the province; the sand grains cause a scrubbing noise as they rub against each other when walked on, aptly named the singing sands. Large dune fields on the north shore can be found on barrier islands at the entrances to various bays and harbours. The magnificent sand dunes at Greenwich are of particular significance. The shifting, parabolic dune system is home to a variety of birds and rare plants and is also a site of significant archeological interest.
Prince Edward Island National Park - Prince Edward Island National Park of Canada is home to sand dunes, barrier islands and sandspits, beaches, sandstone cliffs, wetlands and forests. These diverse habitats provide a home for a variety of plants and animals, including the threatened Gulf of Saint Lawrence Aster and the endangered Piping Plover. The National Park also features unique cultural resources, notably Green Gables, part of L. M. Montgomery's Cavendish National Historic Site, and Dalvay-by-the-Sea National Historic Site. In 1998, six kilometres of the Greenwich Peninsula were added to the Park to protect unique dune formations, rare plants and animals, as well as archaeological findings dating back 10,000 years.
Prince Edward Island Provincial Parks - Prince Edward Island's network of Provincial Parks has 11 camping parks and 14 day use parks which offer spectacular beaches, beautiful scenery, nature trails and lots of outdoor recreation and interpretive programs.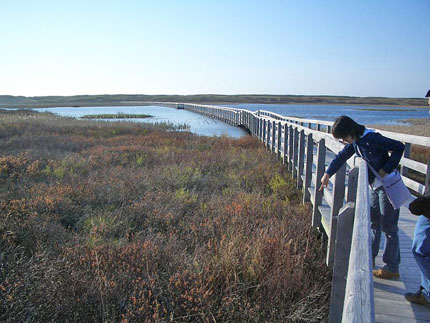 A wood boardwalk in Prince Edward Island National Park in Greenwich
Image: From Wikipedia, the free encyclopedia - Author Chensiyuan
This work is licensed under the
Creative Commons
Attribution-ShareAlike 3.0
License.