Québec's parks are organized to promote discovery while respecting sensitive zones and keeping environmental impacts to a minimum.

Forillon National Park - Forillon, an Invitation to Land's End! Forillon, a national park created in 1970, is located at the farthest reach of the Gaspé Peninsula. Its majestic landscapes cover a 244 km 2 area that is carved out of the sea, cliffs and mountains. Forillon protects a representative sample of the Notre-Dame and Mégantic mountain regions and certain elements of the Gulf of St. Lawrence marine region. The presence of ten different rock formations, colonies of seabirds and enigmatic artic-alpine plants give this park its unique character. Within this seaside park, the Grande-Grave National Heritage Site attests to the way of life of fishing families.

La Mauricie National Park - Enjoy the adventure of a lifetime in the heart of the Laurentians. La Mauricie National Park invites you to a close encounter with the Laurentians, the chain of mountains flanking the northern shore of the St. Lawrence River. Covering an area of 536 km2, the park gives off an air of serenity throughout its gently contoured terrain. On this vast plateau of rolling hills intersected by valleys and dotted with myriads of lakes, life moves in perfect unison with nature. Here only the changes of the seasons mark the passage of time, retouching the landscape with subtle strokes and calling visitors with a promise of both activity and relaxation. Since its creation in 1970, the park has safeguarded the continuing integrity of this richly endowed land, protecting it as a representative sample of the southernmost part of the Canadian Shield. Welcome to this haven of peace! La Mauricie National Park, a conservation area that relies on your involvement!

Mingan Archipelago National Park Reserve of Canada - Beyond the 50th parallel, along the North Shore of the Gulf of St. Lawrence, lies a remarkably beautiful scattering of some thirty limestone islands and more than 1000 granitic islets and reefs. The territory, the "Mingan Archipelago", became a national park reserve in 1984. This necklace of land carved out of the limestone bedrock is the site of spectacular natural monuments which bear witness to the never-ending wear of the sea and of the centuries. And there is an abundance of life in this strange half-world: plants of variegated hues and shapes, seabirds gathered in colonies, seals, dolphins and whales, swarming the blue vastness in which the islands bathe. Mingan Archipelago: a treasure to discover and preserve…

Saguenay-St. Lawrence Marine Park - An area to discover in depth! Since its creation in 1998, the marine park has worked to protect and present the marine environment of a section St. Lawrence Estuary and the Saguenay Fjord. With a surface area of 1 245 km2, this large ecosystem is unique because of its sea bottom topography and its fjord . The confluence of waters of the St. Lawrence Estuary with those of the Saguenay Fjord creates exceptional oceanographic phenomena promoting significant biological diversity . Five cetacean species inhabit the waters of the marine park, including the St. Lawrence beluga, a protected species. In all, more than fifteen species of marine mammals have been reported, which bears witness to the marine park's ecological significance. As well, the area surrounding the Saguenay St. Lawrence Marine Park has a long history of human inhabitation and is a place of importance in North American history. On this land, Amerindian and European civilizations came into contact, a contact that made a lasting impact.

Quebec National Parks - Québec's 27 national parks have extraordinary experiences in store for you! Together, these imposing protected spaces provide a perfect example of Québec's multi-faceted geography. Each park has its own unique personality owing to its location, flora and fauna, and they all boast an astounding diversity of natural sites and scenery.

Sépaq - Looking for fabulous destinations? Escape into the Sépaq network and the exquisite natural settings of its 22 national parks, 15 wildlife reserves, 8 tourist resorts and Sépaq Anticosti. Whether you want to camp or stay in 4-star hotel, whether you want to enjoy the great outdoors, make new discoveries or simply relax, you'll have a totally unique experience in Québec's most beautiful natural environments!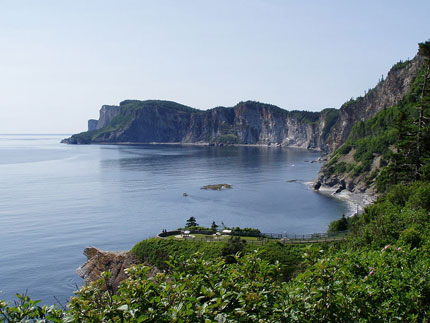 Image: Cap Bon-Ami, on the North side of the Forillon peninsula. Forillon National Park of Canada
Source: Wikipedia - Photo taken in July 2005 by Danielle Langlois.