Imagine hiking in a National Park at the top of the world, where caribou spend the summer. Canoe a wild northern river few have ever seen. Hop a bush plane and go flightseeing over the Nahanni, the Mackenzie Delta, or Great Slave Lake's East Arm. Or relax aboard a jet boat, and travel a northern river to a secluded mountain lodge.

Aulavik National Park - Aulavik, meaning " place where people travel " in Inuvialuktun, protects more than 12,000 square kilometres of arctic lowlands on the north end of Banks Island. The park encompasses a variety of landscapes from fertile river valleys to polar deserts, buttes and badlands, rolling hills, and bold seacoasts. At the heart of Aulavik is the Thomsen River, which offers visitors a chance to paddle one of the continent's most northerly navigable waterways. This pristine arctic environment is home to both the endangered Peary caribou and to the highest density of muskoxen in the world. The wildlife and land have supported aboriginal peoples for more than 3,400 years, from Pre-Dorset cultures to contemporary Inuvialuit.

Nahanni National Park Reserve and UNESCO World Heritage Site - Nahanni National Park Reserve of Canada protects a portion of the Mackenzie Mountains Natural Region offering the adventurous visitor a wilderness experience. A key feature of the park is the Naha Dehé (South Nahanni River). Four great canyons line this spectacular whitewater river. At Nailicho (Virginia Falls) the river plunges in a thunderous plume. The park's sulphur hotsprings, alpine tundra, mountain ranges, and forests of spruce and aspen are home to many species of birds, fish and mammals. A visitor centre in Fort Simpson features displays on the history, culture and geography of the area. The park was inscribed on UNESCO's World Heritage List in 1978.

Tuktut Nogait National Park - With rolling tundra, wild rivers, precipitous canyons, and a variety of unique wildlife and vegetation, Tuktut Nogait ('young caribou') is one of Canada's undiscovered gems. This remote park is located 170 kilometres north of the arctic circle and is home to the Bluenose West caribou herd, wolves, grizzly bears, muskoxen, arctic char, and a high density of raptors. The wildlife and land have supported aboriginal peoples for thousands of years, from the Copper and Thule cultures to contemporary Inuvialuit.

Wood Buffalo National Park - Canada's largest national park and one of the largest in the world. It was established in 1922 to protect the last remaining herds of bison in northern Canada. Today, it protects an outstanding and representative example of Canada's Northern Boreal Plains. This national park is UNESCO World Heritage Site larger than Switzerland.

Come Share The Wonder - Dancing Aurora memories are on offer through the winter months in the Northwest Territories. Tour specialists offer an exciting selection of Aurora experiences and some will even outfit you for the winter climate. Take a tour on a dogsled, with the Aurora lighting your snowy path. Try a wilderness Aurora viewing deck equipped with individually heated seats that warm you while you marvel at the sparkling lights overhead. Drive your own snowmobile, or fly out to a cozy lodge, where winter adventures fill your days and the Aurora performs at night.

NWT Recreation and Parks Association - The NWT Recreation and Parks Association (NWTRPA) is a non-profit organization with a primary focus on providing leadership, support and services to NWT communities, volunteers in recreation, and recreation professionals. We work in the areas of Leadership, Active Living, Trails and Aquatics.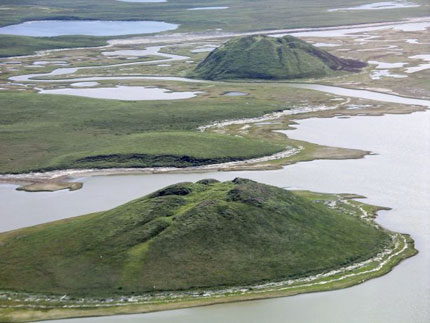 Image: Pingos near Tuktoyaktuk, Northwest Territories, Canada - Author Emma Pike
Source: Originally uploaded to English Wikipedia by en:User:ChrisNF 16 August 2007